Wallen Mapondera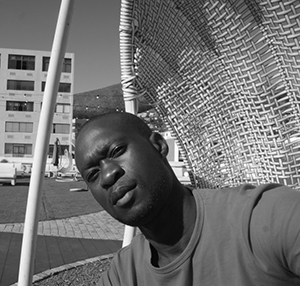 Wallen Mapondera is an MFA candidate at Rhodes University with the NRF/DST SARChI Chair Geopolitics and the Arts of Africa, Arts of Africa and Global Souths research programme and is working with Professor de Jager and Professor Simbao. He is a conceptual artist known for his powerful use of animal symbolism, and works with a variety of media including painting, sculpture, installation and performance. Mapondera works with various symbolic and functional materials such as fabric and cardboard, and through assemblage he brings objects together to transfigure commonplace, mundane materials into new, and unfamiliar forms.
Deeply informed by Zimbabwe's political and economic crisis, Mapondera uses zoomorphic and anthropomorphic imagery to comment on power and inequality. He also explores human-animal relationships and different cultural attitudes towards animals. He employs this symbolic investigation as a metaphoric tool to explore geo-political culturescapes, and explores local and global issues around state power, corruption, authority, policing and protest. He examines the deadening weight of colonial baggage and structures that shape cultures today, and questions how these structures evolve to allow for new forms of colonial experiences through rampant economic and cultural consumerism.
Solo shows include Samusha Weiri Dongo (2018) and Tsanangudzo (Clarifications) (2017) at SMAC Gallery in South Africa, Social Zoometry (2014) at Gallery Delta, and Zimbabwe, Turning Tables at Redmill Gallery in Vermont, USA. In 2015 he won the prestigious National Arts Merit Award in Harare.
Last Modified: Wed, 13 Feb 2019 09:36:53 SAST