Dr Eyitayo Tolulope Ijisakin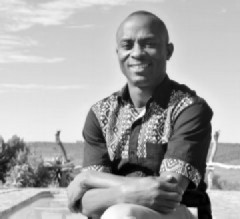 Eyitayo Tolulope Ijisakin (Postdoctoral Fellow with the NRF/DST SARChI Chair Geopolitics and the Arts of Africa, Arts of Africa and Global Souths research, Fine Arts Department, Rhodes University, South Africa) received his PhD in African Art Studies in 2016 from the Department of Fine and Applied Arts, Obafemi Awolowo University, Ile-Ife, Nigeria, where he is also a faculty member. His research interest swivels on the appreciation, preservation, and promotion of the rich African culture through the visual arts. His training in the visual culture has exposed him to a range of ideologies that tends to appreciate the aesthetics and sociocultural context of African art.
In 2015, Dr. Ijisakin's PhD thesis, which was supervised by Dr. Babasehinde Ademuleya, won the prestigious Dissertation-Fellowship of the African Humanities Program, under the auspices of the American Council of Learned Societies, New York. Ijisakin had earlier won the National Merit Award for Distinguished High Performance and Dedication to Duty in the Nigerian National Youth Service Corps programme in 1998, and also won the National Drawing Competition on Breast Feeding (Baby Friendly Initiative) organised by the Nigerian Federal Ministry of Health in conjunction with UNICEF in 1996. He is a Member of the Society of Nigerian Artists, the Nigerian Field Society, and the Advertising Practitioners Council of Nigeria.
Dr. Ijisakin has attended and presented papers at several academic conferences; he has also published some of his research findings in reputable local and international journals. He is one of the eight selected by the American Council of Learned Societies, New York to attend the 2017 edition of the African Humanities Program book "Manuscript Development Workshop" held in Accra, Ghana. He has participated in several art exhibitions in Nigeria and London, and has also featured in several art workshops including the Harmattan Workshop series organised annually by the Bruce Onobrakpeya Foundation at the Niger Delta Cultural Centre, Agbarha-Otor, Delta State, Nigeria. He has taken many commissioned jobs; such include logo designs for national and international organisations, and cover designs for journals, textbooks, and musical albums. He has also produced more than a thousand custom-made designer's cards for dignitaries from within and outside the shores of Africa.
Dr. Ijisakin was a Visiting Research Fellow at the International Institute for the Advanced Study of Cultures, Institutions and Economic Enterprise, University of Ghana, Legon, Ghana, in 2015. He is currently a Postdoctoral Fellow with the Arts of Africa and the Global South research team under the leadership of Prof. Ruth Simbao, the NRF SARChI Chair in Geopolitics and the Arts of Africa, Department of Fine Art, Rhodes University, Grahamstown, South Africa.
Last Modified: Mon, 11 Feb 2019 12:18:55 SAST