Athi-Patra Ruga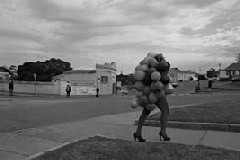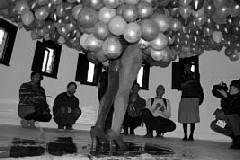 Athi-Patra Ruga spoke to Rhodes University Fine Art students and staff about his work in Grahamstown, 2012. Later that year he produced two performances for the Making Way exhibition curated by Ruth Simbao – 'Performance Obscura' in the vicinity of the camera obscura (left) and the 'Future White Woman of Azania' inside the Provost Prison (right). In 2013 Ruga performed a version of the 'Future White Woman of Azania' in Johannesburg for the Standard Bank Gallery version of Making Way.
Ruga was born in Umtata, South Africa in 1984 and lives and works in both Johannesburg and Cape Town. He is represented by Whatiftheworld Gallery in Cape Town. (Photos: Ruth Simbao).
For more photographs of Ruga's Making Way performances click here.
Last Modified: Mon, 17 Jul 2017 16:07:26 SAST