Cedric Nunn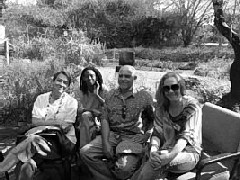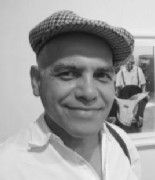 In 2013 well-known South African photographer, Cedric Nunn, participated in the student-led initiative Lucid Lunchbox, which is connected to the Visual and Performing Arts of Africa focus area. Nunn talked about his work that was then still in progress titled 'One Hundred Years of Resistance'. This work was exhibited at the National Arts Festival in 2014.
Nunn was born in Nongoma, KwaZulu, and raised in Hluhluwe, Mangete and Baynesfield. He says of his own work: "I began photography in Durban in the early eighties, my initial impetus being to document the realities of apartheid that I thought were being ignored by the mainstream media. I soon moved to Johannesburg and joined the Afrapix collective and agency. Working largely with NGO's, my focus throughout has been on documenting social change, and in particular rural issues. I continued to work independently after the demise of Afrapix in the early '90's" (www.cedricnunn.co.za).
Photo on right: Julie Wells, Sikhumbuzo Makandula, Cedric Nunn, Ruth Simbao.
Last Modified: Mon, 17 Jul 2017 16:07:40 SAST