Professor Ciraj Rassool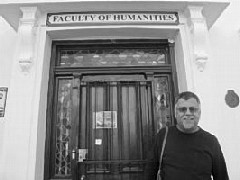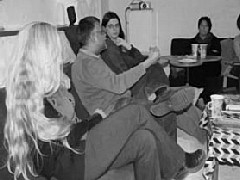 Professor Ciraj Rassool presented the paper "Bone memory and the disciplines of the dead: human remains, transitional justice and heritage transformation in South Africa" at a Humanities/Fine Art seminar at Rhodes University. He also facilitated a research methodologies workshop for the Visual and Performing Arts of Africa research team.
Ciraj Rassool is Professor and Chairperson of History at the University of the Western Cape, where he also directs the African Programme in Museum and Heritage Studies. He has published widely on South African public history, visual history and resistance historiography and is a trustee of the District Six Museum, a Board member of the South African History Archive (SAHA) and a Councilor of Iziko Museums of Cape Town. He has co-authored or co-edited a number of books on museums and public culture, including Skeletons in the Cupboard: South African museums and the trade in human remains 1907-1917, Recalling Community in Cape Town: Creating and Curating the District Six Museum, Museum Frictions: Global Transformations/Public Cultures, South African Family Stories: Reflections on an experiment in exhibition-making. His recent book Popular Snapshots and Tracks to the Past: Cape Town, Nairobi and Lubumbashi was published by the Royal Museum of Central Africa in Belgium in 2010.
Last Modified: Mon, 17 Jul 2017 16:06:30 SAST