Dr Patrick Oloko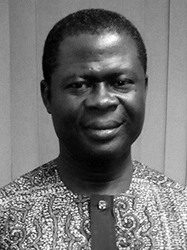 Dr Patrick Oloko (2018 Writer in Residency with the Residencies for Artists and Writers (RAW) programme, Arts of Africa and Global Souths Research programme, Fine Art Department, Rhodes University, Grahamstown, South Africa) is a Senior Lecturer in the Department of English, University of Lagos, Nigeria. His specializations are African postcolonial literature, gender studies and popular cultural studies. In his engagements with African postcolonial literature, Dr. Oloko focuses mainly on writers who are prolific but remain relatively understudied. He is the editor of The Fiction of Akachi Adimora-Ezeigbo: Issues & Perspectives (2008) and In Theory and In Practice: Engaging the Writings of Hope Eghagha (2015). Both are inaugural book-length studies of Nigerian creative writers whose works are currently enjoying global visibility.
Dr. Oloko's interest in gender studies is centered on analyzing how ideology and aesthetics converge in the creative productions of female writers of feminist orientations such as Flora Nwapa, Tsitsi Dangaremgba, Mariam Warner-Vieyra and Ama Ata Aidoo. That is, how their productions figure within the overall aesthetics and infrastructure of the novel as a genre of literature. In these ways, he investigates how literary representations of the increasingly egalitarian global social order can (re) shape our understanding of gender and its role in the 'new world' order or 'post-feminist' society. His essays in this field and related issues are published in numerous journals and books.
The training of Dr. Oloko as a literary critic has positioned him for a more eclectic and interdisciplinary task of analyzing cultural materials in other genres and media. The ways that written and oral literatures, the plastic, performance and verbal arts dovetail with one another within the spectrum of the narrative is only becoming clearer as artists and writers reshape their techniques to meet new tastes and interests. His research in this direction is geared towards understanding the complementarities of forms and the intrinsic and extrinsic exchanges and undercurrents shaping their dynamic frames. The RAW residency at Rhodes University is therefore a pivotal moment for him to engage the visual productions of the Nigerian Artist, Peju Layiwola. In his focus on her expected productions, he hopes to conceptualize a 'scholarly turn' in the way that cultural materials are analyzed, using the lens of a literary critic to view visual and performance forms and demonstrating how they produce cultural knowledge through their entanglements or differentiations.
Dr Oloko has been the recipient of many fellowships and travel grants such as the Cadbury Visiting Fellowship at the University of Birmingham (2010); the German Research Council grant for his study of publishing in early postcolonial Nigeria (2011) and the DFG/ Point Sud grant to organize a workshop on popular culture in Ougadougou, Burkina Faso (2013). He was the Regional Coordinator (working with Professor Stephanie Newell, currently of Yale University) for The Cultural Politics of Dirt in Africa: 1880-Present, a European Research Council project funded under framework of FP7, Advanced Investigator Grant.
Last Modified: Mon, 18 Feb 2019 09:37:57 SAST