Dr Rose Kirumira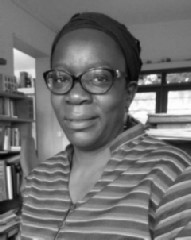 Rose Namubiru Kirumira (2017 Writer in Residency with the Residencies for Artists and Writers (RAW) programme, Arts of Africa and Global Souths Research programme, Fine Art Department, Rhodes University, Grahamstown, South Africa ) is a graduate and Senior Lecturer at the School of Industrial and Fine Arts, Makerere University since 1987. She has also just graduated with a Doctorate of Philosophy at Makerere University in the research area of art education investigating the value of informal learning spaces in the formation of African visual artists. She is one of the few recognized and well exhibited female artists in Uganda as a practicing sculptor. She has made monumental sculptures in Canada, USA, China and Denmark.
Since she graduated majoring in both sculpture and ceramic sculpture, her practice has evolved around traditional visual art skills, techniques and knowledge. She has incorporated with local shapes, designs and colour in her work to develop her own style that is tending towards decorative arts and crafts. Her studio experience currently covers a wide range of traditional materials, found and mixed media and formats. The subjects that she favor have been fueled by the need to make visual commentaries about changing cultural and social material forms for example, her current theme is about sculptures for changing Ugandan urban societies. She tries to impose an identity to the work as a way of negotiating other people's understanding, appreciation and acceptance of her personal artistic expression.
She also has experience in coordinating artists' activities in Uganda and have attended several artists' workshops and residencies (Zambia, Kenya, Botswana and South Africa). As early as 1995, she has been part of various international artists' networks both in Africa and Europe, where she has gotten new ideas, gained confidence and competitiveness in her work.
Last Modified: Mon, 18 Feb 2019 09:38:59 SAST