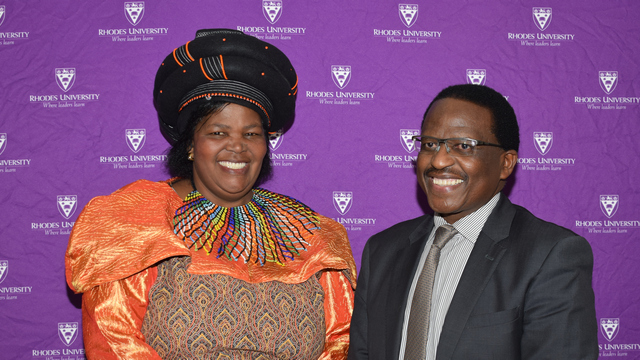 Rhodes University academic, administrative, and support staff recently gathered in Eden Grove Red to celebrate those who have been in service at the University for 10, 15, 25, and 35 years.
"This evening, we celebrate the combined service of almost 2000 years of 146 of our colleagues," said Rhodes University Vice-Chancellor, Dr Sizwe Mabizela. "This is one of those special days set aside in our university calendar to recognise, and pay special tribute to our colleagues who have served this university loyally, and with great dedication and commitment, for a considerable amount of time."
Four staff members received an award for 35 years of service, 10 for 25 years, 56 staff members were acknowledged for being employed by the University for 15 years and 76 had worked at Rhodes University for 10 years.
Dr Mabizela said, "We are very privileged to be able to celebrate such long service. And it is the loyalty, education, commitment, and hard work of these individuals that has enabled us to build and sustain this university as a place of knowledge, as a place of hope, and as a place of opportunity for all."
To the long-service awardees, he said, "You've seen this university grow and change over time. And in the process, you have made your own unique and special contribution to help make this make this university the great institution that it is today."
The long-service staff who were honoured, and their years of service are as follows:
| | | |
| --- | --- | --- |
| Ms | Bikitsha | 10 |
| Dr | Boshoff | 10 |
| Ms | Brits | 10 |
| Prof | Bunting | 10 |
| Mrs | Comley | 10 |
| Mrs | Cummings-Penlington | 10 |
| Ms | De Maar | 10 |
| Mr | Diedericks | 10 |
| Mrs | Diedericks | 10 |
| Ms | Donda | 10 |
| Prof | Dugmore | 10 |
| Mr | Dukashe | 10 |
| Mrs | Dwani | 10 |
| Prof | Edkins | 10 |
| Ms | Gcule | 10 |
| Dr | Hlengwa | 10 |
| Mr | Hulu | 10 |
| Mrs | Jamela | 10 |
| Mrs | Jeggels | 10 |
| Mrs | Jewell | 10 |
| Prof | Juma | 10 |
| Prof | Keeton | 10 |
| Dr | Kempgens | 10 |
| Prof | Khene | 10 |
| Miss | Kirkwood | 10 |
| Miss | Koen | 10 |
| Ms | Konze | 10 |
| Mr | Kulati | 10 |
| Ms | Makeba | 10 |
| Mrs | Mali | 10 |
| Mr | Mame | 10 |
| Mr | Mancam | 10 |
| Ms | Mangesi | 10 |
| Mr | Maritz | 10 |
| Mrs | Marshall | 10 |
| Ms | Masutu | 10 |
| Mrs | Mccarthy | 10 |
| Prof | Mckenna | 10 |
| Mr | Mcuba | 10 |
| Ms | Mngcambe | 10 |
| Mr | Munyai | 10 |
| Ms | Myburgh | 10 |
| Miss | Ncula | 10 |
| Ms | Nell | 10 |
| Mrs | Ngamale | 10 |
| Mr | Nkuna | 10 |
| Miss | Nkwinti | 10 |
| Ms | Nqebe | 10 |
| Ms | Ntlanjeni | 10 |
| Mr | Nyikilana | 10 |
| Ms | Ogram | 10 |
| Mr | Patterson | 10 |
| Miss | Pikoli | 10 |
| Dr | Pinchuck | 10 |
| Mr | Plaatjes | 10 |
| Ms | Ponase | 10 |
| Ms | Rabeshu | 10 |
| Miss | Rabeshu | 10 |
| Ms | Roberts | 10 |
| Prof | Roux | 10 |
| Mrs | Sait | 10 |
| Mr | Schoeman | 10 |
| Ms | Sidinana | 10 |
| Ms | Skere | 10 |
| Miss | Stokes | 10 |
| Prof | Tastan Bishop | 10 |
| Mr | Van Der Walt | 10 |
| Mrs | Van Wyk | 10 |
| Mr | Volminck | 10 |
| Mrs | Walters | 10 |
| Ms | Western | 10 |
| Mr | Williams | 10 |
| Mr | Wright | 10 |
| Miss | Yapi | 10 |
| Mr | Youthed | 10 |
| Mrs | Youthed | 10 |
| Mrs | Adriaan | 15 |
| Dr | Boshoff | 15 |
| Ms | Coupe | 15 |
| Mrs | Donyeli | 15 |
| Mr | Douglas | 15 |
| Mr | Duruwe | 15 |
| Miss | Fejela | 15 |
| Mrs | Ferguson | 15 |
| Mr | Gess | 15 |
| Miss | Gordon | 15 |
| Miss | Gotyana | 15 |
| Mr | Gumenge | 15 |
| Mrs | Hart | 15 |
| Miss | Heleni | 15 |
| Prof | Hendricks | 15 |
| Mrs | Hoza | 15 |
| Mrs | Hughes | 15 |
| Mr | Irwin | 15 |
| Mr | Jansen | 15 |
| Mrs | Japp | 15 |
| Mr | Kivitts | 15 |
| Miss | Kleinhans | 15 |
| Dr | Knox | 15 |
| Miss | Kretzmann | 15 |
| Mr | Langson | 15 |
| Mr | Mabindisa | 15 |
| Dr | Mabizela | 15 |
| Miss | Meltafa | 15 |
| Miss | Mesani | 15 |
| Mr | Moneli | 15 |
| Mr | Morley | 15 |
| Mrs | Mzileni | 15 |
| Mr | Naidoo | 15 |
| Mr | Ngquwe | 15 |
| Mrs | Nobebe | 15 |
| Mrs | Nobongoza-Mkhwane | 15 |
| Miss | Nzuzo | 15 |
| Dr | Olvitt | 15 |
| Mrs | Peter | 15 |
| Miss | Plaatjie | 15 |
| Mr | Plaatjies | 15 |
| Prof | Prevec | 15 |
| Mr | Randall | 15 |
| Mr | Sauls | 15 |
| Dr | Schudel | 15 |
| Dr | Seddon | 15 |
| Mr | Singata | 15 |
| Prof | Terzoli | 15 |
| Ms | Vambe | 15 |
| Mrs | Van Aarde | 15 |
| Mr | Van Niekerk | 15 |
| Ms | Van Rooyen | 15 |
| Mr | Van Rooyen | 15 |
| Mrs | Vatela | 15 |
| Mr | Visagie | 15 |
| Miss | Webber | 15 |
| Mr | Amos | 25 |
| Prof | Campbell | 25 |
| Prof | Dorrington | 25 |
| Mr | Forsyth | 25 |
| Prof | Kaiser | 25 |
| Mrs | Nosilela | 25 |
| Prof | Quinn | 25 |
| Prof | Ripley | 25 |
| Mrs | Stoltz | 25 |
| Miss | Venter | 25 |
| Miss | Kila | 35 |
| Mrs | Mnyungula | 35 |
| Mrs | Sikiti | 35 |
| Mr | Stevens | 35 |