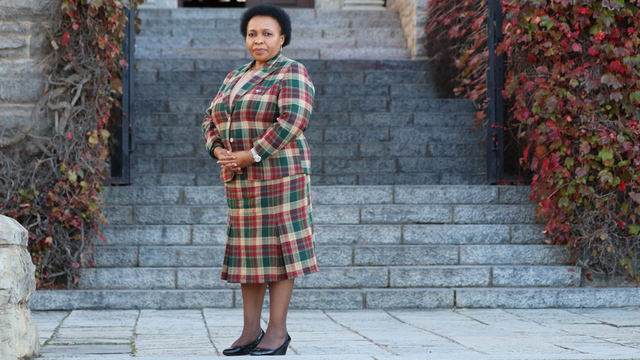 Over the past month you have received communications from the University in relation to the Covid-19 pandemic and the University's strategy for remote teaching and learning. In line with this strategy, the University has entered into agreements with the mobile carriers Vodacom, MTN and Cell C to provide data bundles for our students who are clients of those carriers. Engagements are also underway with Telkom Mobile around a similar agreement. These agreements provide for 10 GB of anytime data and 20 GB of night owl data per student per month, and will be refreshed at the start of the month. The first bundle will be in place in readiness for 4 May 2020 online studies.
The data bundles provided by the University are explicitly for our students to make productive progress on their studies, and they may not be used for any other purpose.
Students who have used their data bundle inappropriately and run out of data will be treated in the same way as students during normal times who have not productively managed their time and who have not attended lectures, practicals, or group meetings, or met submission deadlines.
The supply of data bundles means that under no circumstances will a lack of data to access University resources be accepted as an excuse for falling behind or not meeting submission deadlines.
Who will receive data bundles?
All students who have a South African cellular number recorded on ROSS and confirmed by them at registration this year. This includes undergraduate and postgraduate students, and all categories of students who are currently registered for an exit qualification with the University. Occasional studies students will not qualify. Postgraduate students who are not yet formally registered for this academic year will not be eligible until they are formally registered or re-registered.
How will I know that I have received a data bundle?
Your mobile carrier of choice will send you a message to indicate that your data bundle has been provisioned.
For how long will I continue to receive a data bundle?
The University agreements with mobile carriers are for an initial period of three months. This period will be adjusted as the national restrictions for the Covid-19 pandemic change, and students are able to return to campus to make use of the University's on-campus facilities.
Will using the zero-rated sites hosted on our campus reduce the credit on my data bundle?
No. Vodacom, Cell C and Telkom have confirmed that their networks remain zerorated for unlimited educational resources hosted within the Rhodes University domain (RUconnected, ROSS, Webmail, and Library landing pages), with the caveat that a small amount of non-free data is required to make the initial connection to the Rhodes sites. MTN currently limits the amount of University-hosted material to 500MB per student per month – engagements are underway in an effort to have this restriction lifted.
What must I do if I do not receive a data bundle?
Check that the correct cellphone number is recorded on ROSS. The first data bundle will be distributed to the number that we currently have recorded for you. If you wish to change that number for the second or third month you must change it on ROSS by updating the "data" number. It will be possible for you to receive your data bundle on a different number to the one that is recorded for us to telephone you on. The update screen for this will be ready on ROSS by 10th May. Each student will, however, only receive one data bundle per month delivered to the number recorded in the "data" number on ROSS.
What must I do if my circumstances change and I no longer need a data bundle?
If you find that you do not need your data bundle for any reason, please remove the number from the "data" number on ROSS or request in writing to the Student Bureau that the University does so for you. No compensation or refunds will be considered for declining a data bundle, but you will know that you are helping the University address the needs of those who most need it with its very stretched resources. It is not technically possible for you to give some or all of your data bundle to someone else of your choice.
Will International students receive a data bundle?
International students who are currently within the borders of South Africa and make use of one of the mobile carriers identified will receive data bundles in the same way as all other students. Students outside of the borders of South Africa will unfortunately not be eligible for this offer, even if they are a current client of a South African mobile carrier in their country of residence. Global mobile carriers operate as separate national entities, and are unable to help us with agreements that extend across borders into other countries.
What will happen if I flatten my data bundle before the end of the month?
The size of the data bundles has been carefully calculated, considering the range of students at Rhodes University, the nature of online teaching and learning being used, the modalities of postgraduate supervision and library access, and affordability. The bundles will be more than adequate if managed properly, by avoiding excessive use of video, and batching larger downloads for night owl times. Students who flatten their bundles will be responsible for purchasing their own data to continue their studies to the end of the month.
What times apply to night owl data?
Night owl times vary slightly between mobile carriers, and you should look up the times applicable to your carrier of choice on their web site.
Rhodes University is committed to supporting the education of all of our students. We are implementing remote/online teaching and learning in various ways, in order to ensure that our students are able to continue with their education.
Please stay safe and help us curb the spread of COVID-19 in our country.
Dr 'Mabokang Monnapula-Mapesela
DVC: Academic & Student Affairs