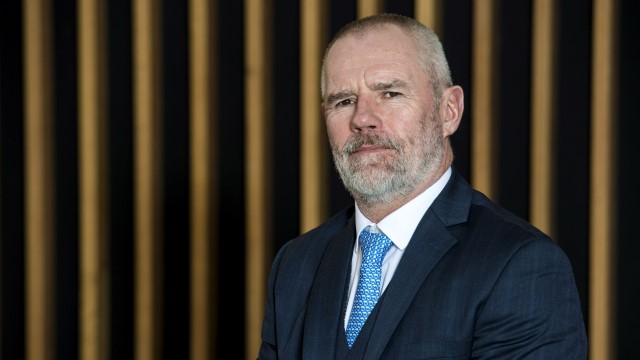 Professor Steve Olivier, who started as a student at Rhodes University in 1981, has accepted the appointment of Vice-Chancellor and Principal of Robert Gordon University (RGU) in Aberdeen, Scotland. He accepts this responsibility despite the global Covid-19 pandemic and the challenges it poses to higher education.
Before accepting his new role at RGU, Prof Olivier was Provost and Deputy Vice-Chancellor for the University of the West of Scotland.
"I hope that my appointment provides some support for the Rhodes University strapline, 'Where Leaders Learn'. I also hope that it motivates some to realise that they can rise to the top of their chosen field even if they don't seem to be obvious candidates to do so, or if others don't seem to believe that to be possible," Prof Olivier said.
Prof Olivier believes he was an unlikely candidate for this sort of role. "Naughty and unscholarly at school, interested only in rugby, I didn't even get close to the marks necessary for university acceptance," he explained.
Several years later, however, after a change to the qualifications framework, he arrived at the steps of Botha House at Rhodes University in 1981. "The University changed me, as it awakened two important things in me," he recalled. "One was a heightened sense of social conscience. The other, very importantly, was the inculcation of a spirit of curiosity. The latter is, to my mind, what universities ought to do. Everything else follows from that – learning, research, social contribution, economic development, and so on."
His lecturers in Philosophy, History, Human Kinetics, Afrikaans/Nederlands, and Psychology encouraged his questioning, probing, (and probably insufferable) attitude, he admitted. "So many people positively influenced me that naming them would fill several pages. However, they know who they are, and they know that I thank them for it," he said.
Prof Olivier loved Rhodes University from the minute he arrived, and knew that he wanted to work at a university in the future. "While I was never able to secure an academic position at Rhodes University, I did work in Sports Administration before leaving to pursue an academic career elsewhere. All my degrees are from this University, and I am proud of that," he stated.
His time at the University also facilitated for him to become a trustee of the Rhodes University Trust UK, which has its purpose supporting the educational activities of the University through providing funding. He also started the Ally Weakley Memorial Bursary, which provides funding to support a Rhodes University student on an annual basis.
"I'm not really one for aphorisms, but I will leave you with this one. 'You will never again find the time that you have wasted'. Make the most of your time at the splendid university that you are privileged to be a part of. Emerge wiser and kinder. Learn, where leaders learn," he concluded.
Rhodes University Vice-Chancellor, Dr Sizwe Mabizela, extended his heartfelt congratulations on Prof Olivier's new appointment. He said, "This a fitting recognition and tribute to your outstanding leadership in higher education. Your alma mater bursts with immense pride in your superb achievement. We wish you much success as you steer RGU in these tumultuous, challenging and unprecedented times."