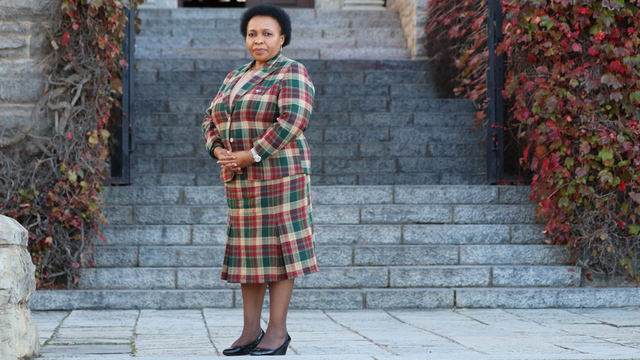 Dear staff and students
Allow me to start by thanking each one of you for the work done in the first term and, in particular, during this uncertain time.
When news broke in Wuhan, China in December 2019 about the outbreak of the novel coronavirus (Covid-19), little did we know or anticipate that three months later we would be facing a country lockdown.
Covid-19 has taken over our normal ways of doing business and has forced us to re-think and re-plan in all the areas of our University. We cannot deny that the academic project has been affected in a major way. The Deans of Faculties, Heads of Department (HoDs), the Centre for Higher Education Research Teaching and Learning (CHERTL), the Registrar and other colleagues have been hard at work from the beginning of the early recess to ensure that plans are in place for continuity of teaching and learning during the second term, which will start officially on 20 April 2020, after the lockdown ends.
A Coronavirus Response Task Team (CVRTT) was established by the Vice-Chancellor on 5 March 2020. This team has worked hard to ensure that the institution is ready to respond to a possible outbreak of Covid-19 in Makhanda. I am at a loss for words with which to thank the Vice-Chancellor for his leadership and members of the task team for the great contribution they have made towards ensuring the Institution's readiness.
Please visit the Covid-19 Watch Webpage www.ru.ac.za/cvrtt for more information on work done by the CVRTT.
The early recess period, which started on 18 March 2020, has been and will continue to be used by academics to prepare themselves for alternative and innovative ways of teaching and facilitation of learning on online platforms. This preparation has involved academics working closely with CHERTL to plan, create and develop new teaching resources and learning activities, as well as identifying ways of communicating with students online.
Workshops covering a range of topics (such as: introduction to online resources; presentation of content using videos, audio and text remotely; using various teaching strategies, designing online assessment tasks; using various tools and practices to communicate with students online; and engaging students for learning) were conducted online https://ruconnected.ru.ac.za/user/view.php?id=207&course=7681 and face-to-face for individual and different groups of academics.
Our plans for online teaching and learning are progressing well, notwithstanding the challenges of venturing into an untested and unfamiliar terrain. All these plans have been informed by, amongst other things, a survey that was conducted for staff and students by CHERTL to determine whether staff and students are equipped with, and have access to, internet-enabled devices. We are also aware that some of our students live in areas where there is no or limited access to internet. Efforts are being made at institutional and national levels to ensure that students and staff have free access to internet to study and work from home.
A clear communication will be sent out to students two weeks before the end of the 21-day lockdown, informing them about how teaching and learning online will be implemented. During this week (6-10 April 2020), CHERTL will orientate students about how to access their courses and learn remotely. Lecturers will also start communicating with their students through RUconnected. Many of our students have already been introduced to the University's online platform RUconnected, and for many academics who have been using blended learning this will be a continuation.
Work Integrated Learning and practical work will need to be planned differently. These will be done in the long term in the form of simulations, online demonstrations and block practical work wherever possible.
Formative assessments will form part of the online teaching and learning, to commence on 20 April, while longer term plans for summative assessment need to be put in place. Exact times for examinations will be communicated in due course. Careful consideration will be taken to ensure that the quality of teaching and learning is not compromised.
The DVC: Research and Innovation assured us of continued support by Information and Technology Services and Library Services. There are colleagues who are working on direct and backup standby arrangements, to ensure that our digital network and information resources remain fully available for the lockdown period and beyond. About 90% of our information resources in our Library are also available digitally.
Support for students will also continue through our tutorial system. HoDs in the different faculties will continue planning with student assistants and tutors to ensure that they are ready to support students through online platforms. They will be assisted to set up small, personalised WhatsApp groups, while plans will be made to make data available for their use in online support and regular communication with students.
The Health Care Centre will remain open during the lockdown period, as this is an essential service. Students in need of counselling services should contact ER24 on 010 205 3068 for trauma counselling. Staff will be on standby to assist students during and post-lockdown when classes begin. Trauma debriefing sessions will be held once classes commence and when Covid-19 is defeated and normalisation achieved.
We hope that classes will begin on 20 April 2020, as we cannot afford to lose any teaching and learning time. If we all work together and make required sacrifices during this uncertain time, we will be able to complete the academic year successfully.
Once again, let me thank staff members for maintaining calm during this difficult and uncertain time, and for preparing for the business of the Institution to continue. May I also thank the students for their cooperation in helping our government in its efforts to prevent the spread of Covid-19. I hope they will continue to carefully observe hygiene and other measures in place to ensure that they do not contract this disease. I sincerely thank the Student Representative Council (SRC) for working with us to advise and communicating with their fellow students. Their leadership in a time of crisis has been admirable and they have proven that they are indeed at a place where leaders learn.
As we all start the 21-day lockdown tomorrow, let us be hopeful and take care of ourselves, our families, neighbours and community members who are less privileged than us, and those who are vulnerable. Let us keep communication with each other as open as possible. This pandemic shall pass and we shall come out a more caring and hopefully wiser society.
Please take note of these important contacts:
For educational technologies support continue using edtech@ru.ac.za. One of the Ed Tech team members will respond to your requests as soon as they can.
The Health care Centre can be contacted on 046 603 8523 from 08h30 to 16h30.
For any after hour medical services, students should contact ER24 on 010 205 3068.
Kind regards
Dr 'Mabokang Monnapula-Mapesela