Rhodes > Environmental Science > Staff > Staff: Academic > James Gambiza
James Gambiza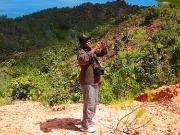 BSc Hons, MSc, PGDHE, MEd, PhD
Contact Details:
Phone: +27-046-603-7010
Fax: +27-046-6037574
E-mail: j.gambiza@ru.ac.za
Biography

James' research interests include fire ecology, systems ecology, rangeland ecology, natural resource management, plant-animal interactions, ecological modelling and land degradation. James trained as a plant ecologist. He has vast experience on grazing management systems, land degradation, agroforestry, community-based natural resource management, livestock production and ecological modelling. James has worked extensively in rural areas in both Zimbabwe and South Africa.

James teaches land degradation, ecological systems and environmental management at undergraduate level. He also teaches ecological modelling and community-based natural resource management at postgraduate level. James received the VC's Senior Distinguished teaching award in 2010. He has supervised 20 MSc students. He is currently supervising 4 MSc and 5 PhD students. He has authored or co-authored 71 papers, conference proceedings, book chapters and research reports.

Recent Publications

Gosling, A., Shackleton, C.M. & Gambiza, J. 2017. Community-based natural resource use and management of Bigodi Wetland Sanctuary, Uganda, for livelihood benefits. Wetlands Ecol. Manage., 25: 717-730

Mutekwa, V.T. & Gambiza, J. 2017. Forest protected areas governance in Zimbabwe: Shift needed away from a long history of local community exclusion. Journal of Environmental Management, 198: 330-339.

Ntshane, B.C. & Gambiza, J. 2016. Habitat assessment for ecosystem services in South Africa. International Journal of Biodiversity Science, Ecosystem Services & Management. http://dx.doi.org/10.1080/21513732.2016.1217935

Chishaleshale, M., Shackleton, C.M., Gambiza, J. & Gumbo, D. 2015. The prevalence of planning and management frameworks for trees and green spaces in urban areas of South Africa. Urban Forestry & Urban Greening, 14: 817-825.

Moncrieff, G.R., Lehmann, C.E.R., Schnitzler, J., Gambiza, J., Hiernaux, P., Ryan, C.M., Shackleton, C.M., Williams, R.J. & Higgins, H.I. 2014. Contrasting architecture of key African and Australian savanna tree taxa drives intercontinental structural divergence. Global Ecology & Biogeography, 23: 1235-1244.

Masubelele, M.L., Hoffman, T., Bond, W. & Gambiza, J. 2014. A 50 year study shows grass cover has increased in shrublands of semi-arid South Africa. Journal of Arid Environments. Accepted.

Hoffman, T., Puttick, J. & Gambiza, J. The influence of South Africa's post-apartheid land reform policies on bush encroachment and range condition: a case study of Fort Beaufort's municipal commonage. African Journal of Range & Forage Science. Accepted.

Shackleton, C.M., Hebinck, P., Kaoma, H., Chishaleshale, M., Chinyimba, A., Shackleton, S.E., Gambiza, J. & Gumbo, D. 2014. Low-cost housing developments in South Africa miss the opportunities for household level urban greening. Land Use Policy, 36: 500-509.

Nsor, C.A. & Gambiza, J. 2013. Land use changes and their impacts on the vegetation of the Kromme river peat basin, South Africa. Science Journal of Environmental Engineering Research, (3): 1-12.

Shackleton, R.T., Shackleton, C.M., Shackleton, S.E. & Gambiza, J. 2013. Deagrarianisation and forest succession in abandoned fields in a biodiversity hotspot on the wild coast, South Africa. PLoS ONE 8(10): e76939.doi:10.1371/journal.pone.0076939.

Davenport, N.A., Shackleton, C.M. & Gambiza, J. 2012. The direct use value of municipal commonage goods and services to urban households in the Eastern Cape, South Africa. Land Use Policy, 29: 548-557.
Last Modified: Fri, 24 Nov 2017 10:22:44 SAST