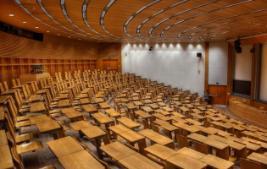 A Treasury study of the National Student Financial Aid Scheme (NSFAS)' released this week' contains "disturbing" findings on the drop-out and failure rates of students doing degrees on NSFAS grants.
NSFAS-funded students studying three or four year degrees' according to the study' have a drop-out rate almost double that of all students studying for the same qualifications.
NSFAS graduation rates - within the set time for a particular degree - is less than half that of all students.
The study's findings were made public on Wednesday by Democratic Alliance MP Belinda Bozzoli.
"These damning findings contradict those of earlier studies' possibly because they excluded students studying for diplomas and certificates' which are shorter' and arguably easier to pass; and with NSFAS's own reported figures which' the Treasury report suggests' are inaccurate'" she said.
The Treasury study took NSFAS funded students registering in the year 2006/7 and tracked them over a period of five years.
It found that after five years' 63% of them had dropped out and 32% had graduated' while the remaining 5% were continuing into a fifth year.
"These new statistics should cause alarm bells to ring. Our poorest students are failing to finish their degrees' which are needed to help them find a job and pursue a life they value.
"The NSFAS Act requires the funding of individual students to be based on a combination of financial need and probability of success. This is not happening' as no assessment is undertaken on the latter when grants are provided. The Report accordingly urges NSFAS to conform to the Act' and to introduce a more rigorous assessment process and to introduce a managed follow-up process on student progress."
She cautioned: "If this does not happen' billions of rands which could be used to fund qualifying' poor students and those from the 'missing middle'' will be wasted."
Source: Times Live
Please help us to raise funds so that we can give all our students a chance to access online teaching and learning. Covid-19 has disrupted our students' education. Don't let the digital divide put their future at risk. Visit www.ru.ac.za/rucoronavirusgateway to donate