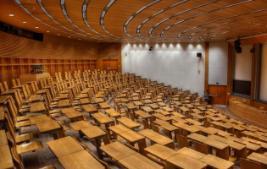 By: Bongani Nkosi


Agreement Baloyi, from Tzaneen in Limpopo, dropped out of Tshwane University of Technology (TUT) in 2014 because of outstanding debt and has never gone back to varsity.
He is now counted as part of the statistical category of youth who enter university but drop out without completing their undergraduate diplomas or degrees.
A new report by the Department of Higher Education and Training, released yesterday, shows that just under half of young people who enter university never graduate, despite a number of them pursuing first degrees for 10 years.
This report presents by far the most accurate data tracking student drop-out rates in the country.
The March 2016 report looks at the 2000 to 2008 first time undergraduate group . A total of 129976 students enrolled at universities in 2008.
It reveals that while 24.5% of students dropped out after their first year, only 14.4% graduated after completing their three-year first degrees.
Just 52.1% completed their undergraduate studies after their seventh year at varsity. A whopping 47.9% never graduate at all.
"This is a major challenge for the system as not only is it costly in monetary terms, with the huge investment in subsidies that do not result in graduates, but also in human terms, as these young people leave the system without qualifications," said the report.
African and coloured students were most likely to drop out compared to their Indian and white counterparts, the report shows.
Only 11.9% of African students graduated after three years, and 32.1% dropped out after their first year.
Of coloured students, 31.1% dropped out after their first year and 20.5% completed their degrees in three years.
Intervention was needed for African and coloured students, said the report. "While all students need to improve their throughput rates in minimum time, support for African and coloured students to improve their performance is a critical equity issue."
The report does not rigorously interrogate factors that cause high drop-out rates, and instead urges universities "to invest in data analytics to better understand their student drop-out and throughput rates by population group and gender".
Baloyi left TUT because the National Student Financial Aid Scheme told him there were not enough funds to cover him, he told Sowetan yesterday.
Baloyi could not afford to pay the R20000 debt he incurred for his first-year studies at TUT's Soshanguve campus in 2014.
Source: Sowetan Live
Please help us to raise funds so that we can give all our students a chance to access online teaching and learning. Covid-19 has disrupted our students' education. Don't let the digital divide put their future at risk. Visit www.ru.ac.za/rucoronavirusgateway to donate