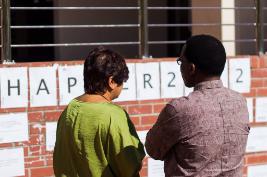 On 11th April 2016 an awareness campaign consisting of posters relating to rape culture was launched. The posters are meant to raise awareness of the policies regarding sexual assault and rape on campus, and the prevailing attitudes of management towards rape and sexual assault victims. Campus Protection Unit (CPU) removed the posters the morning after they were put up but the SRC succeeded in reposting them around the Library and Kaif area.
The statements on the posters are from Rhodes students, management and prosecutors. The SRC-endorsed posters form the first chapter in the Unashamed movement also currently occurring at Stellenbosch University. Stellenbosch began a poster campaign the previous night but the posters were removed and no other university appears to be taking part in the movement so far.
Members of the movement state that management is accountable for perpetuating rape culture at Rhodes, and these discriminatory and victim-shaming policies must change. Dr Mabizela, along with the Director of the Library Ujala Satgoor, spent the morning discussing the posters and the movement and had a largely positive reaction to the movement itself. The quotes by Rhodes management will also be investigated.
Dr Colleen Vassiliou stated that the Director of Student Affairs office is offering support and advocating for this work. There will also be a warden's discussion to discuss these policies. Rhodes University management has also had various meetings with student bodies to discuss this.
The reactions of the student body to the posters have ranged from curious to outraged and an impact has been made on social media with the hashtag #Chapter212. Quotes like "management is more offended by our posters violating the rules than rapists violating our bodies" and "We're tired of people only paying lip service to rape culture while perpetuating it" were among some of the responses given by those present.
#Chapter212 which refers to the South African Constitution chapter regarding safety and dignity of the student body.
Freedom and security of the person
12. (1) Everyone has the right to freedom and security of the person, which includes the right—
(a) not to be deprived of freedom arbitrarily or without just cause;
(b) not to be detained without trial;
(c) to be free from all forms of violence from either public or private sources;
(d) not to be tortured in any way;
and (e) not to be treated or punished in a cruel, inhuman or degrading way.
(2) Everyone has the right to bodily and psychological integrity, which includes the right—
(a) to make decisions concerning reproduction;
(b) to security in and control over their body; and
(c) not to be subjected to medical or scientific experiments without their informed consent.
Source: Activate Online
Please help us to raise funds so that we can give all our students a chance to access online teaching and learning. Covid-19 has disrupted our students' education. Don't let the digital divide put their future at risk. Visit www.ru.ac.za/rucoronavirusgateway to donate