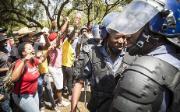 BLOEMFONTEIN – The University of the Free State (UFS) says it will make a decision this afternoon on whether the academic program needs to remain suspended for the rest of the week following two days of violence at the campus.

On Monday, spectators at a rugby match assaulted protesting students who disrupted the Varsity Cup game.


There are no reports of overnight violence after protesters yesterday vandalised a statue and spray-painted buildings.

Management at the university says although it doesn't want to suspend classes, its main priority is the safety of students and staff.

As a result, a tough decision will have to be made later today.

The university says only if the racial tensions have not calmed down significantly within the next few hours will it have to suspend lectures until Monday.

This morning, students of all races have been praying and singing gospel songs outside campus since the early hours, calling for unity.
The university says it will now 'double up' efforts to deal with the underlying racial tensions by facilitating talks on campus.

'HATRED BASED ON SKIN COLOUR'

Political parties and respected public figures have called on students participating in racial fights at universities not to allow 'hatred based on skin colour' to tear the nation apart.

Tensions have run high this week at the University of Pretoria over language policies at the University of the Western Cape over the outsourcing of workers.

In a tweet this morning Public Protector Thuli Madonsela said young South Africans must not allow hatred to divide along racial lines and everyone must work together on building a united nation.
Madonsela's daughter was among those injured at Tuks during clashes between students over language policies.

Meanwhile the African National Congress (ANC) says black and white students united during the 'Fees Must Fall' movement last year and must now 'jealously guard and advance these gains by not turning on another'.

UFS Vice Chancellor Jonathan Jansen says he is extremely saddened by what he witnessed on Monday night.
Original article was published on Eyewitness News
Source: Eyewitness News
Please help us to raise funds so that we can give all our students a chance to access online teaching and learning. Covid-19 has disrupted our students' education. Don't let the digital divide put their future at risk. Visit www.ru.ac.za/rucoronavirusgateway to donate