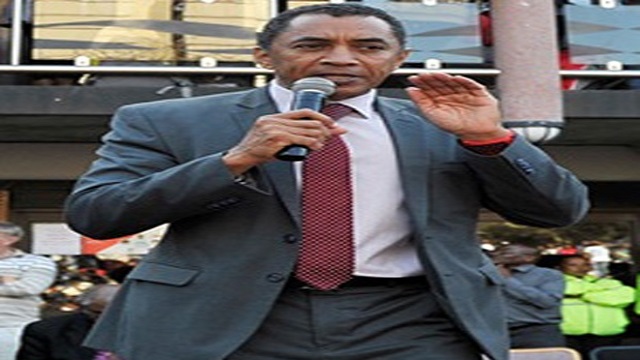 Port Elizabeth - Nelson Mandela Metropolitan University's (NMMU) first-year students received a sobering welcome to the institution over the weekend as Vice Chancellor Professor Derrick Swartz said they could not provide free education and could not scrap debts.
Swartz, who was on sabbatical when the Fees Must Fall movement peaked in 2016, was speaking to first-year students in an address that was streamed live to multiple venues across the university's campuses, including in George.
"We, as universities, cannot give free higher education, neither can we scrap the debt or fees for that matter. It is simply not possible and I cannot concede to that. It is a policy issue. Unless, and until, government effects otherwise, that is the way the system legally works. It legally enforces me to collect the fees.
"At the same time, the government must increase its subsidies. It cannot lean on fees and communities to raise the difference that they are not paying. It is unacceptable that we have a government that does not prize and value higher education to produce the quality education that we have."
Swartz said he knew his utterances would not go down well with some student activists, but that he needed to emphasise and contextualise the fees issue.
NMMU financial security under threat
As NMMU gets ready to start the new academic year, the institution is still owed a staggering R142m in accumulated fees as of the end of 2016.
NMMU spokesperson Zandile Mbabela said last year that NMMU assisted academically deserving and financially needy students who qualified for debt resolution, giving them the opportunity to return to the university to continue their studies, while converting outstanding debt from 2015 into NMMU-funded National Student Financial Aid Scheme (Nsfas) loans.
"This loan funding covered 1 531 students to the tune of R21m in 2016. The university further offered down-payment relief for qualifying students, bringing the total number of students assisted to 5 043. This resulted in a R30m negative cash flow at end of February 2016," she said.
"The university also assisted zero-expected family contribution students with a contribution towards books, food and accommodation, amounting to R25.4m."
Mbabela said the budget deficit for 2017 was currently at R68m.
Contextualising the funding crunch, Swartz said the number of students entering the system was rising sharply, while government subsidies were on the decline.
"Government is busy [with this]. We have been engaging the [Higher Education and Training] Minister [Blade Nzimande] and the president [Jacob Zuma], and with great difficulty, over the last few years about reviewing university funding models," he said.
Laying down the law
Laying down the law, Swartz said the university would not tolerate violent protests that trampled on the rights of those not actively participating in the protests.
"We will take every legal step to protect and secure and to open universities. There will be no shutdown of universities," he said.
Swartz reminded first-year students that taking up the offer to study at the university meant they agreed to adhere to its rules.
"Remember, when you sign up here as a student, you sign a contract to uphold the values, and therefore the rules, of the institution. If you violate those rules, you are breaking your side of the contract. Your parents and I have to hold you accountable for this," he said.
"So focus on the main reason you are here – to learn, to study and to graduate, so you can serve the country.
"We will allow peaceful, legal protest, but not violence and infractions of the rights of others. Universities, by design and history, are open, peaceful societies, and we cannot govern them by force, but if Constitutional rights of others are violated, the law imposes on us the responsibility to ensure such rights are upheld. We must defend the rights enshrined in our Constitution. We cannot have transformation in the context of anarchy."
Swartz said he was committed to continue transforming the university.
"I use the term in its broad sense, to create a more equal, inclusive and a more diverse university for all of us. Those three things will hang together going forward."
The welcoming ceremony was the start of the first-year orientation programme, with incoming students set to begin registration on Monday.
Source: News24
Please help us to raise funds so that we can give all our students a chance to access online teaching and learning. Covid-19 has disrupted our students' education. Don't let the digital divide put their future at risk. Visit www.ru.ac.za/rucoronavirusgateway to donate