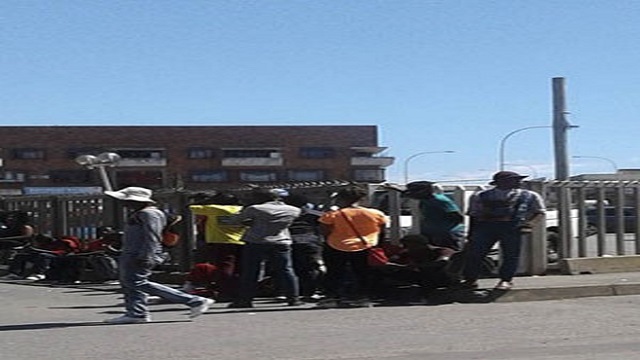 Five campuses at Walter Sisulu University have been shut down and registration has been frozen following a dispute over fees, GroundUp reported on Tuesday.
Students are demanding free registration for students from quintile one, two, and three schools and for students continuing their degrees.
On Tuesday, students closed the Potsdam, Chiselhurst and Buffalo City campuses in East London. When GroundUp arrived at College Street campus, student leaders were moving students off the campus. The administration was already closed.
Buffalo City campus SA Students Congress (Sasco) chairperson Zolile Zamisa said students had been trying to meet university management since last Thursday. The university wanted students to pay 20% of their debt before they could register, he said.
He said the university had received R1.5m from the National Student Financial Aid Scheme, and students wanted it to be used for new registrations.
WSU spokesperson Yonela Tukwayo said the money had already been used to pay for past debt.
Zamisa said until university management agreed to a meeting, registration would be stopped.
Grievances
Luvo Mtila, a second year electrical engineering student, said he was doing a semester course from January to June.
"We should have started already. I fear that it is going to be hard to finish this semester and the course itself is very difficult. Now, there will be a lot of pressure in the classroom," he said.
A first-year student who did not want to give her name said she had spent R400 to travel from Mthatha to East London to register, only to find the administration closed. She now had to find accommodation.
"We are new here and most of these guys who are protesting are doing third year," she said.
Mthatha campus SRC president Sinelizwi Mantangayi said students had other grievances including shortage of accommodation and facilities.
Tukwayo said the university could not allow students to shut down campuses.
"We cannot allow this because the institution will be getting into a situation of bad debt. As much as we hear the students' demands, it is difficult to allow," she said.
Source: News24
Please help us to raise funds so that we can give all our students a chance to access online teaching and learning. Covid-19 has disrupted our students' education. Don't let the digital divide put their future at risk. Visit www.ru.ac.za/rucoronavirusgateway to donate