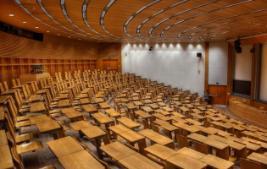 By: Abra Babier
One of the Bills before the National Assembly in the next term of Parliament is the Higher Education Amendment Bill. The aim is to set transformation goals for tertiary institutions.

The Bill is currently with the Higher Education and Training Portfolio Committee, who hope to finalise it early in May and send it to the National Assembly for adoption.

Public hearings were held over the past term, and 15 submissions from various institutions were presented. The Bill came under fire for giving too much power to the Minister of Higher Education, subjecting academia to possible political interference.

Transformation in the education sector is key to government's programme to reduce poverty; However many are still not able to access higher education.

The higher education sector currently finds itself in a tough spot after protests rocked the country last year as students expressed
their frustrations.

The Higher Education and Amendment Bill aims to address some of the grievances and among others, it provides for fixed transformation goals and oversight mechanisms. It also provides for developing recognition of prior learning frameworks.
Source: SABC News
Please help us to raise funds so that we can give all our students a chance to access online teaching and learning. Covid-19 has disrupted our students' education. Don't let the digital divide put their future at risk. Visit www.ru.ac.za/rucoronavirusgateway to donate