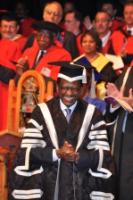 RHODES University vice-chancellor Dr Sizwe Mabizela has outlined strategies to build the university as an outstanding institution of higher learning and academic excellence.
Speaking to the audience during his inauguration at the 1820 Settler's National Monument in Grahamstown on Friday, Mabizela said it was time Rhodes University does things differently.
"As vice-chancellor of Rhodes University, I will strive to ensure that no academically talented, but financially needy, student is turned away. I call on our staff, students, alumni, donors and the private sector to make a contribution in this endeavour.
"When I became a Deputy Vice-Chancellor, I made a salary sacrifice to contribute to a bursary fund intended to help academically talented but financially needy students. In my capacity as vice-chancellor, I am able to increase this salary sacrifice in order to advance our strategic objective to make higher education accessible to those who come from poor families.
"I call on others to contribute in whatever ways they are able to make the learning experiences we value so greatly here at Rhodes University more available to all," Mabizela said.
He said he will use his leadership skills to position Rhodes as a credible institution.
"As one might expect, with change in leadership, there will always be continuities, discontinuities and adjustments.
"However, my promise is that I will use my leadership to further our shared objective of strengthening our University's position as a distinct institution providing outstanding education to young people of our country and beyond, generating and disseminating knowledge of high quality which advances human understanding and wisdom; knowledge that helps us build and sustain a better society and a better world.
"I have been very clear in my conversations with the University community that we cannot and will not continue with business as usual. We must do things differently," Mabizela said.
By Sithandiwe Velaphi
Source: New Age
Source: New Age
Please help us to raise funds so that we can give all our students a chance to access online teaching and learning. Covid-19 has disrupted our students' education. Don't let the digital divide put their future at risk. Visit www.ru.ac.za/rucoronavirusgateway to donate