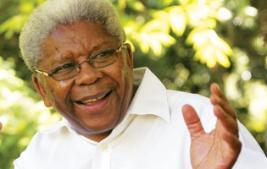 By: Ernest Mabuza
This is a warning from Archbishop Emeritus Njongonkulu Ndungane.
Ndungane made this call as the Commission of Inquiry into Higher Education and Training – known as the Fees Commission – began its hearings.
The commission' chaired by Judge Jonathan Heher' was established in January to inquire into' report on and make recommendations on the feasibility of a fee-free higher education and training in South Africa.
President Jacob Zuma appointed the commission following protests by university students last year against the high costs of university education.
Ndungane said he feared that student frustration could easily boil over again if this matter was not adequately addressed.
"It is concerning that National Treasury has not budgeted for a zero percent increase in university fees this year' and that the financial sustainability of universities is depending increasingly on students themselves. It is also deeply distressing to note that private sector contributions to tertiary education are declining'" Ndungane said.
He said the country and the economy cannot afford to see disruptions in education which would inevitably have a negative impact on the skills needed to get the economy growing.
Ndungane said' during his term of office as Archbishop of Cape Town' he objected to the millions spent on the infamous arms deal' and also called on the new democratic government to refuse to honour the odious debt that had been incurred by the apartheid government.
Source: Times Live
Please help us to raise funds so that we can give all our students a chance to access online teaching and learning. Covid-19 has disrupted our students' education. Don't let the digital divide put their future at risk. Visit www.ru.ac.za/rucoronavirusgateway to donate