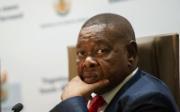 HIGHER Education Minister Blade Nzimande is to hold an urgent meeting with the vice-chancellor of the University of Pretoria and then with student leaders and AfriForum on Sunday to discuss racial tensions that have come to a head in violent protests.
Mr Nzimande will first meet vice-chancellor Cheryl de la Ray in Johannesburg, and after that he will meet representatives of AfriForum, the Economic Freedom Fighters (EFF) Student Command, the African National Congress (ANC) Youth League and the SA Students Congress, said spokesperson Khaye Nkwanyana.
"The intention is that the academic programme will start again on Monday," he said.
Meanwhile in Pretoria, Gauteng representatives of the ANC, SA Communist Party, ANC Youth League, Cosatu, SA National Civic Organisation, Afriforum, Afriforum Youth and trade union Solidarity also met to discuss the situation facing higher education institutions in the province, and the University of Pretoria in particular.
During a media briefing all the representatives condemned violent activities on campus and said that any individuals taking part should be criminally charged.
"Students can be angry, but they don't have a right to cause destruction," ANC Gauteng secretary Hope Papo said.
Groups of students at the university have clashed over opposing viewpoints on the university's language policy with the EFF Student Command saying it will not let the university open again until things have changed. Black students have also complained that the environment is racist for them.
On February 20 the university said its management had scheduled a series of meetings with student representative bodies on February 18 and 19 to provide feedback on the language policy task team report and the proposed amendments to the language policy.
It proposed that English be the primary language of instruction in all lectures, that it promote multilingualism to build social cohesion and that Afrikaans and Sepedi be used as additional support to students in tutorials, practicals and discussions, but the meeting was postponed.
Twenty seven people were arrested for public violence the week before last.
Charges against three were dropped and 24 are expected to stand trial. Their case was postponed to April 7, but the university has been closed.
Ms de la Rey has vowed to clamp down on violent protests with the help of police.
Last week protests were also held at the University of Free State, and at the North West University's Mahikeng campus.
This article is originally published here
Source: BD Live
Please help us to raise funds so that we can give all our students a chance to access online teaching and learning. Covid-19 has disrupted our students' education. Don't let the digital divide put their future at risk. Visit www.ru.ac.za/rucoronavirusgateway to donate