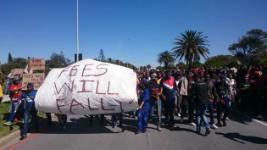 JOHANNESBURG — Hundreds of students at universities across South Africa have blockaded roads and clashed with police this week, protesting for the right to free education and against deeper inequities in a year-long movement that has come to be known as #FeesMustFall.
Last October, university students brought a number of campuses to a standstill, protesting a proposed increase in tuition they said many students couldn't afford and venting their frustrations with an education system that some said was not only anti-poor, but anti-black.
Ultimately, after meeting with student leaders, President Jacob Zuma announced last October there would be no fee hike in 2016. It was a big win for the uprising, so when Minister of Higher Education and Training Blade Nzimande said on Monday that universities must decide for themselves whether to raise fees in 2017 — but that any increase they impose should be capped at 8 percent — student groups returned to demonstrate.
More than 20 years after the end of apartheid, students protesting under the banner of #FeesMustFall say South African universities are prohibitively expensive, shutting out a disproportionate number of black students from access to higher education.
But the problem doesn't end at fees, activists say. Universities are part of a broken system that has failed to address South Africa's enduring inequities, they say. Like other movements seeking to redress systemic inequity — including #BlackLivesMatter in the United States — the online manifesto of the #FeesMustFall group at Wits University in Johannesburg calls for the "decolonization" of universities, the removal of symbols of oppression and colonialism from campus and a revision of the curriculum "to include black thought and intellectuals," among other measures.
After Nzimande's announcement this week, many #FeesMustFall supporters flatly rejected the 8 percent cap, despite the minister's assurances that the government would subsidize any increase for poorer students.
"Last year we managed to show that the power of a mobilized and united youth can shake the core of an unjust system," Wits Student Representative Council said in a statement on its Facebook page. "We have a responsibility to go beyond just shaking the system. … The time for free education is now."
Protests have rumbled across campuses since Monday, with classes and other activities suspended once again at several schools, including Wits, University of Cape Town, and the University of Pretoria.
"For the students, the fee is now part of a bigger struggle," says William Gumede, a professor at Wits and a former leader in the 1980s anti-apartheid student protests. "It's become almost symbolic: The majority of the lecturers are white, they feel the university is not a friendly space. … All of those things are thrown together."
The right to peaceful assembly is sacrosanct in South Africa's young democracy, enshrined in a constitution drafted in the wake of apartheid-era governments that clamped down on political protest. Gumede says it's crucial for students to exercise this right, but he isn't convinced they are channeling their energy in the right direction. He says they should be focusing on the government — not the universities themselves — and on holding the nation's leaders accountable.
"They are causing a lot of disruption at the university level, but not at a national level," Gumede says. "Unless they target government, very little is going to change."
Grumblings about the students protests have also started to surface, with some criticizing the groups' for shutting down schools on behalf of what amounts to a minority of students. After video circulated this week of what appeared to be students throwing rocks at private security guards at Wits — and private security guards throwing rocks at the students — neither party came out looking great. (School officials condemned the guards' action and launched an investigation into the incident.)
The government, which has set up a commission to look at the long-term prospect of making higher education fee-free, has said it wants to talk to students, but some officials have also expressed exasperation with the students' methods.
"When you are looking at the throwing of stones and so on, that's vandalism. It's thuggery," Nzimande, the minister, told local news channel eNCA. "It's something that should have no place in a democratic South Africa, no matter what the issues are."
Some, however, said that universities' high-security response to the protests has been overkill, particularly where smaller protests have been staged.
"Even on my campus, seeing police fully armed to take care of what, 20 or 30 students? It's disproportionate," said Lorenzo Fioramonti, a professor at the University of Pretoria and director of the Centre for the Study of Governance Innovation.
Fioramonti, along with some other university staff members, say the problems the students have raised are too big to ignore. On Thursday, some staff from the University of Cape Town picketed outside Parliament, demanding the government find a way to deal with the problem.
"Free education is a bigger issue than just for universities. It's something everyone should be concerned about. We all have a stake in a system that makes everyone happy," says Fioramonti. "Education has become a kaleidoscope … a focal point of a debate about who we are, and where we want to go."
Source: Washington Post
Please help us to raise funds so that we can give all our students a chance to access online teaching and learning. Covid-19 has disrupted our students' education. Don't let the digital divide put their future at risk. Visit www.ru.ac.za/rucoronavirusgateway to donate