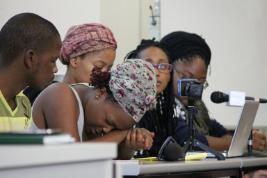 A press conference hosted by members of the Sexual Violence Task Team at Rhodes University was held on Wednesday, 18 May, at the Eden Grove building on Rhodes campus. The aim of the conference was for the five present members to discuss the purpose and goals of the task team. However, there was a conflict of interest as student members Reabetswe Ralethe and Nonhle Skosana shared different views in comparison to the interim chairperson of the task team, Professor Catriona Macleod.
The conflict was made evident when Macleod stated that addressing sexual violence will be a long term process as the task team is aiming for "systemic [and] sustained change." Student task team members Ralethe and Skosana argued against this as they believe there is no time to make this a long term process. "We are trying to make sure that people are okay now. There are people who are struggling and we need to help each other," stated Skosana.
The task team was asked to address the tension between members when the audience was given the opportunity to ask questions. Ralethe stated that "it's all about power" and suggested that staff members within the task team are not listening to the students and are more concerned about the demands of university management. She is not happy with the current functioning of the task team and believes that management is undermining the issue. "They're stalling" she said. Carla Botha, a student at Rhodes University, supported Ralethe and Skosana by stating that Macleod should "stop the systemic change thought, we want change and we want radical change now." In response to the students Macleod stated that rape culture is a broad issue. "We wanted to go through a proper, organic, democratic process," stated Macelod. She believes it is something that cannot be rushed.
Judith Reynolds and Yamini Kalyanaraman are two other members of the task team that were on the panel at the conference. There is approximately 60 members in the Sexual Violence Task Team at Rhodes Universtiy. The task team has begun to address sexual violence by establishing seven mandates to be addressed by sub-task teams. The 'safe space' mandate is currently being challenged by the #RUReferenceList movement. Ralethe and Skosana still believe that those accused of rape should not be on campus. Furthermore, the two members are discontent with the absence of a rape survival group at Rhodes University. They urge students to help one another and to be aware of what is happening around them in terms of sexual violence.
Words by Luale Monze
Header image by Victoria Briggs
Source: Oppidan Press
Please help us to raise funds so that we can give all our students a chance to access online teaching and learning. Covid-19 has disrupted our students' education. Don't let the digital divide put their future at risk. Visit www.ru.ac.za/rucoronavirusgateway to donate