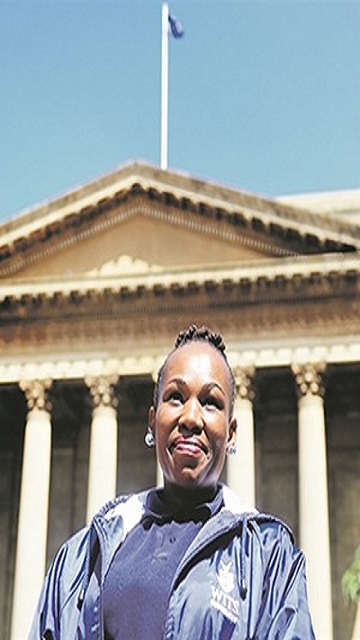 Deliwe Mzobe is one of 1 500 workers set to benefit from a decision taken by University of the Witwatersrand (Wits) to do away with private suppliers following a relentless campaign, initiated in 2015, by #FeesMustFall and #OutsourcingMustFall protesters.
Mzobe, who lives in Soweto, praised the students who, she said, "sacrificed their future" to get her a permanent job with a better salary and benefits at Wits.
She said she could now even "pay for the Rea Vaya" bus service to take her to work, instead of having to wake up early to catch a train.
She hopes that her child, who is currently in Grade 10, will be able to study for free at Wits once he matriculates, as one of the benefits that accrue with the institution's decision to hire workers directly and permanently.
Mzobe, a mother of two, worked as a cleaner for seven years without a medical aid, and earned about R2 000 a month.
"The student protests helped me because while there were still talks going on [about insourcing workers], our wages were raised to R4 500 and later, to R6 000. I got out of debt immediately.
"We now get R7 800, but there are lot of deductions, including for tax and pension funds, so we take home about R6 000.
"The deductions are hitting home and we still do not have medical aid because WitsMed [the university's medical scheme] is expensive."
Mzobe is a member of the Wits Workers' Solidarity Committee, a coalition of workers, staff and students formed to show active solidarity with outsourced workers on campus.
She was also involved in talks with Wits management about insourcing.
"Insourcing was about those who were at picket lines and were shot at by police.
"When workers were outsourced, some managers were involved in a lot of corruption and exploitation of workers, and got their positions in exchange for sexual favours," she alleged.
She said during the talks, students and workers tried to convince the university to bring supervisors to the same level as everyone else and invite everyone to apply for senior positions.
However, they were absorbed into the same positions and are now paid higher salaries, she said.
"Initially, workers wanted to negotiate a wage of R12 500 in solidarity with Marikana mine workers in North West [who, in 2012, went on strike demanding this amount as base pay, resulting in one of the most violent clashes with security forces in the country's history, and 34 mine workers being killed].
"Eventually, workers received less than this amount, while it is supervisors who now earn about R12 500," she said.
Mzobe said along with the increase came the benefit of being able to further one's studies by making use of the university's bursary fund.
Wits spokesperson Buhle Zuma confirmed that the university agreed in principle in November 2015 to pursue insourcing.
And, in June last year, the university council considered proposals presented by the Insourcing Task Team, which comprised an independent external chairperson and representatives of workers, management, students and academics, among others.
Wits approved the task team's recommendations, with the proviso that it should be affordable to the university.
This covered workers who perform routine and nonspecialised functions, such as cleaners, catering, security, transport, waste, grounds and landscaping.
"Insourcing now forms part of the university's transformation strategy to bring about an inclusive society," Zuma said.
Workers were insourced as the contracts of service providers came to an end. The first group of 369 workers joined in January and 500 more were absorbed this month. The final group will be absorbed later this year.
She said Wits was negotiating with the remaining service providers to bring contracts to an end sooner, provided that this would not result in additional costs.
"The Wits council placed a cap of R100m as the total cost of insourcing, including all incidental costs.
"The newly insourced workers will enjoy full benefits as Wits permanent employees. These include study benefits for them and their dependants, paid maternity leave, a provident fund, medical aid and a 13th cheque."
Another member of the workers' solidarity committee, Richard Ndebele, said negotiations were under way to insource maintenance workers as well.
Source: City Press
Please help us to raise funds so that we can give all our students a chance to access online teaching and learning. Covid-19 has disrupted our students' education. Don't let the digital divide put their future at risk. Visit www.ru.ac.za/rucoronavirusgateway to donate