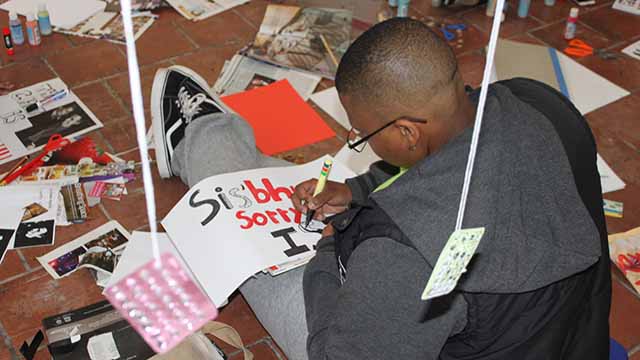 By Sino Falakahla, 3rd-year journalism student
During this year's Silent Protest, BACK.TALK Womxn's Collective held a two-day workshop at Rhodes University, which included poster making, an exhibition, and a creative dialogue with India-based artist Aqui Thami.
The whole experience was carefully thought out, from art supplies being provided to ample refreshments laid out for all those participating.
Aqui is known for her artistic storytelling through the mediums of print, photography and performance art, which she uses to empower people and communities. She often works with womxn and children to produce engaging socio-political work.
The poster-making session took place in a beautiful, calm setting and included students from all ethnic backgrounds and different orientation identities.
Because of this diversity, the space was very peaceful and free from judgement, and it allowed all those present to have creative freedom, as well as to process their own sexual violence experiences and those of their loved ones. Poster messages ranged from calling out patriarchal culture to acknowledging the silence and pain of sexual violence survivors.
The workshop, which took place on Womxn's Day, provided a safe space for survivors and their loved ones to speak out and heal in a creative way.
The room was filled with an overwhelming sense of despair as many of us grieved the loss of our own, and processed the feelings associated with the personal experience of having female bodies and of being non-gender conforming people.
The air was weighted, and the melancholic mood was beautifully expressed in the creative pieces that came out of the poster-making exercise.
As a female who walks through campus and the greater Grahamstown community, this workshop provided me with a platform to express various long-supressed feelings. It provided me with a space to share my pain, without feeling silenced or as if my voice does not matter. It allowed me to express my frustrations about the way men conduct themselves, and in turn, about how I respond (or don't respond) to them. The poster-making workshop allowed me a deep and honest look at myself, not only as a black womxn, but as a black womxn living in a society that often treats me as if I do not matter.
Despite the anguish, I was filled with an overwhelming sense of comfort and warmth to realise that I am not alone. I was consoled and encouraged to be surrounded by so many others who have also been dying to express themselves, but have never really known how.
Putting up the posters was liberating, despite the somewhat hapless thought that we were trying to create awareness within a space that is too often dominated by a voice contrary to our own. That thought was not enough to stop us, however. We put the posters up around campus to create awareness of the issues womxn live with on a daily basis. I sincerely hope that this dialogue can continue making a difference to society. We need to speak up. We need to not be ashamed. We need to have safe spaces.
Please help us to raise funds so that we can give all our students a chance to access online teaching and learning. Covid-19 has disrupted our students' education. Don't let the digital divide put their future at risk. Visit www.ru.ac.za/rucoronavirusgateway to donate