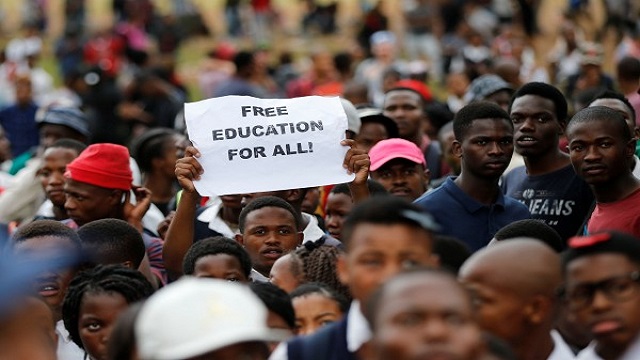 South Africa cannot afford free higher education for all.
That's according to a leaked copy of the Fees Commission report.
The City Press says it's in possession of the document, which President Jacob Zuma has not officially released.
Unrest has already flared up at two campuses prior to this news and the leaked report could well be the spark that reignites more mass protests.
Frustration over the apparent lack of urgency with which Zuma is treating the Fees Commission report on higher education funding is reaching boiling point.
The City Press is reporting that the 748-page report – which was leaked to the newspaper - makes it clear that free tertiary education, as demanded by students since 2015, is simply not feasible for the foreseeable future.
"We absolutely reject it. Absolutely in its entirety. Simply because we called for free education and if anything the recommendation from the report is that free education is not feasible. We would have thought that by this time the report would have spoken to the first phase of implementation. Not to say it is not possible," says Asive Ndlanjwa UFS SRC
At Wits University, the epicentre of violent protests in 2016, the SRC is calling for a National Day of Action to demand free education and the report's immediate release.
Despite this call for action, Thobeka Sikhakhane, a student at Wits, doesn't believe there's going to be a flare up this year.
"As it is we are already under stress with all our exams. Looking at all the statements we've been getting from our SRC they said there isn't going to be any fees must fall this year. However, there are some students who are not happy with the 12% increase. So in as much as we say there might not be one, there have been meetings. But on our behalf, I highly doubt it," she says.
In a recent statement the Presidency said the Fees Commission was unable to complete its work within the 18 months given to it.
Although it's been on President Zuma's desk for two months now, his office says it's still processing and finalising the report.
Students have been arrested at the Universities of Cape Town and the Free State.
UCT will go to court on Monday to seek an interdict against unlawful protest action.
It appears the rebooted 2017 edition of Fees Must Fall protests is about to get into full swing.
Please help us to raise funds so that we can give all our students a chance to access online teaching and learning. Covid-19 has disrupted our students' education. Don't let the digital divide put their future at risk. Visit www.ru.ac.za/rucoronavirusgateway to donate