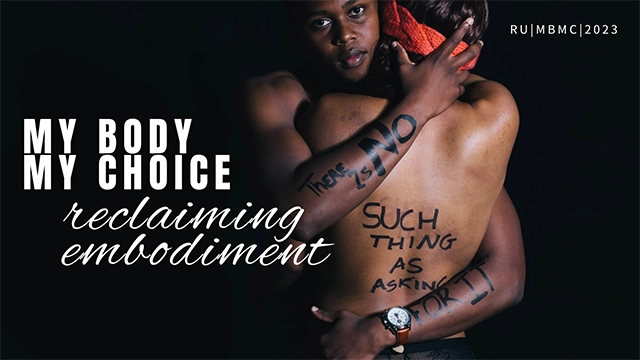 By Lindsay Kelland
The Office of Equity and Institutional Culture is excited to announce the return of the 'My Body, My Choice' campaign to Rhodes University. The phrase, 'My Body My Choice,' originates in the women-led movement for reproductive rights in the United States but has been widely used by different activist collectives pursuing their rights to bodily integrity and self-determination. Rhodes University can boast a history of active feminist work on campus, including a decade's worth of photographic campaigns under the banner of 'My Body, My Choice' focused on the reclamation of embodiment.
In its early years, the campaign followed the annual 'Silent Protest' — an anti-rape protest designed at Rhodes University that stood in solidarity with survivors and aimed to raise awareness of both the extent of rape in our communities, as well as the inherently silencing nature and effects of rape and sexual violence. Sexual violence affects not only those who survive it but also their families, loved ones and society more broadly.
Occurring a month after the 'Silent Protest,' the 'My Body, My Choice' (MBMC) campaign was initially designed for survivors as an exercise of agency and empowerment. In later years, however, the movement broadened its scope to explore the various ways our bodies—all our bodies—are shaped and constrained by the world(s) in which we live.
As existential philosophers remind us, we are embodied subjects thrown into a world that imbues us with meaning, meaning that we come to objectively embody for ourselves and others but which we may not have chosen or identify with. This meaning can alienate us from ourselves and has real material consequences in our daily lives. Over the years, the RU|MBMC campaign has become a space where we reclaim ourselves—our embodiment—and explore the meaning we attribute to ourselves and our relationships with our bodies as mediated by social norms and values in dialogue with others.
This year's photographer is a young, emerging South African artist and educator, CJ Chandler, who "aims to investigate the photographic medium while focusing on chance, process, ritual, identity, and the every day." CJ holds a Bachelor of Arts in Fine Art from the Michaelis School of Fine Art, Cape Town. He was a Tierney Fellow in 2017. In the Fall Semester of 2019, Chandler worked with Stephen Shore on an academic exchange at Bard College in upstate New York, USA. In 2021, he completed his MFA through HFBK Hamburg, Germany, under Adam Broomberg and Oliver Chanarin. He teaches photography part-time at the Michaelis School of Fine Art while pursuing his personal practice."
Born in Makhanda in 1992, CJ is excited to return to our small city to embark on this year's journey with participants.
Portraits from this year's RU|MBMC campaign — 'Reclaiming Embodiment' — will be exhibited at an event hosted by the Office of Equity and Institutional Culture and designed to open up conversations around embodied subjectivity in all its dimensions — gendered, raced, sexed, queered, classed, abled, medicated, aged, etc.
As an institution of higher learning committed to producing graduates "who are critical and democratic citizens and ethical leaders who are committed to the values of human understanding, social justice, human development and service to society," we must both acknowledge the necessity of creating spaces in which these difficult, sometimes controversial, conversations can take place and welcome the opportunity to engage in critical self-reflection on ourselves as individuals and as an institution, in conversation with others. In reviving the RU|MBMC campaign, we honour past members of our community who always pushed us to have these conversations.
For those who still want to sign up as participants, visit the RUConnected page and fill in the following form: https://forms.gle/KWkNtV3CoygufUV1A.
We look forward to welcoming all of you to the event.