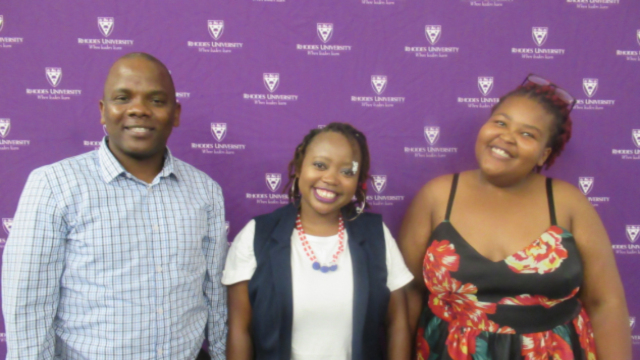 On the panel was Seth Mazibuko, the Chancellor of the June 16 Youth Development Foundation. A prominent leader in the June 1976 Soweto Uprising, Mazibuko stated that Human Rights Day should in fact be called Hero's Day, in honor of the 69 men and women who were murdered at the Sharpeville massacre. "It is important to start decolonizing history as hiding history is hiding the values, victories and virtues of the people". He also said that issues of femicide and child abuse are often ignored by politicians when talking about human rights. "Children do not have a voice and need adults to speak out on their behalf on these issues. Similarly genders based violence is not a women issue but a human issue".
Londiwe Mntambo, a Masters student at the Department of Politics and International Studies at Rhodes University spoke about the problematic issues of enshrining human rights to a document and the commodification of human rights. She stated that it is an assumption that the Bill of Rights are supposed to make the lives of civilians better. "The access to human rights are about satisfactory access rather than the necessary access needed by the people such as access to water, education and housing".
Finally Nkosinathi Mzolo, a Law lecturer at Rhodes University spoke about human rights from a legal perspective. Mzolo stated that the law cannot avoid addressing and promoting human rights if it aims at achieving justice. "The constitution as it stands only addresses and guarantees political equality and remains silent to other socio – economic issues". Mzolo also emphasized that our constitution as well as other former colonized states need to be preceded by equity before equality otherwise it furthers and perpetuates existing inequalities.
Please help us to raise funds so that we can give all our students a chance to access online teaching and learning. Covid-19 has disrupted our students' education. Don't let the digital divide put their future at risk. Visit www.ru.ac.za/rucoronavirusgateway to donate