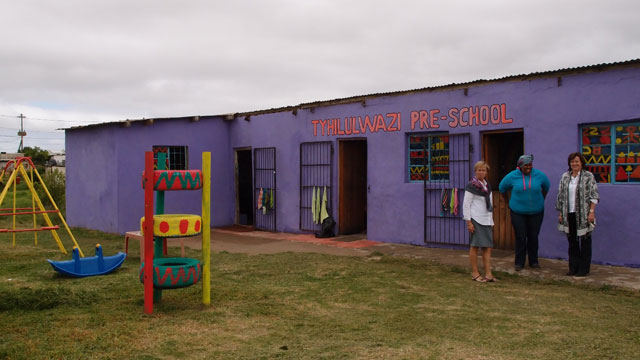 At the beginning of March Rhodes Alumni & Development had the pleasure of hosting alumnus Mr Chris von Christierson on a tour of two Early Childhood Development centres, the Joza Youth Hub and the Assumption Development Centre.
The tour was led by Ms Di Hornby, Director of Community Engagement and Professor Di Wilmot, the Dean of Education.
Mr von Christierson is the Director and Principal of Southern Prospecting and has been actively involved in the establishment of a number of international exploration and mining projects. He is also the Director of Platmin Limited. He was accompanied on the tour by Mr Nick Joffe and Mr Richard Carss.
Exposed to the daily realities of these Early Childhood Practitioners and their young charges, we heard how teachers feed the children before they draw their salaries, how some children are not collected by their parents and stay all night with their school teachers, and a lack of proper sanitation amid a myriad of other challenges.
Mr von Christierson also met with Dr Sizwe Mabizela and has committed a container to be used as an Early Childhood Development Centre. Talks are currently underway with Makana Municipality to find a suitable location for the centre.