Faculty News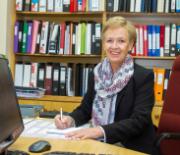 Rhodos 2016
A NEW PRINCIPAL'S VIEWS
Principal Joubert Retief of P.J. Olivier Hoërskool talks about the Principals' Programme and what needs to be done to improve school education in South Africa:
Rhodos September 2016
ENSURING ACCESS AND SUCCESS: THE EXTENDED STUDIES UNIT
Being accepted into Rhodes University is just the beginning of a challenging academic and social journey, and for those from disadvantaged backgrounds the journey can be particularly gruelling. But Rhodes University's Extended Studies Unit (ESU) and its Trojan Academic Initiative (TAI) Student Peer Mentoring Programme are committed to ensuring that students not only arrive, but thrive.