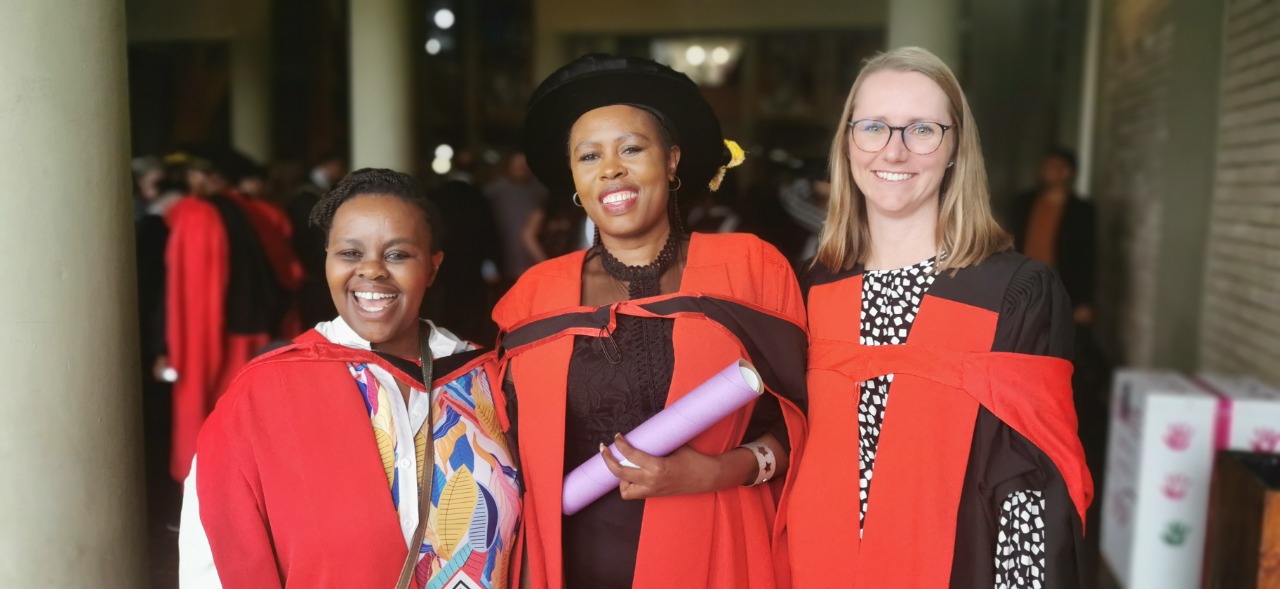 By Dr Kirstin Wilmot
In October 2022 Rhodes University graciously included an extra graduation ceremony in its calendar to enable those who graduated during the COVID-19 era to cross the stage and celebrate with their families.
CHERTL was delighted to host Dr Amanda Mphahlele and her family for this occasion. Amanda's thesis, Conceptualisations of and Responses to Plagiarism in the South African Higher Education System, examined issues of plagiarism in higher education and from an academic literacies perspective, argued that plagiarism interventions do little to address issues of plagiarism which are unintentional and can actually create challenges for novice academic writers. Her study took a critical look at plagiarism policies across the entire higher education sector and interviewed members of plagiarism committees. She found a number of misunderstandings of how students develop writing, a number of problematic responses to unintentional plagiarism, and a significant misuse, by both academics and students, of text-matching software such as Turnitin.
The October graduation period was also a special time to celebrate Drs Nomathemba Ngcobo and Mazvita Thondlana who were capped for their doctorates.
Dr Noma Ngcobo's thesis, The uptake of educational technology in South African higher education: A study of the context that conditioned the emergence of remote teaching in the pandemic provides the only in-depth, national level analysis on the use of technology in the South African higher education sector to date. Her findings revealed not only issues of bandwidth and lack of access to hardware, but also the extent to which both students and academics were not technologically literate. Adding to this problem was the observation that many of the edtech staff in universities had little pedagogical expertise, and saw online teaching as a matter of simply putting information online. The study found that collaborations between universities was key to being able to make the rapid pivot online to continue the academic programme during the pandemic.
Dr Mazvita Thondlana's study, The nexus between Community Engagement and Academic Language Development, focused on language in community engagement initiatives. She found that whereas English is the dominant language of the classroom and assignments, community engagement activities provide students with a rich site of multilingualism and translanguaging which was for many of them, very empowering. The research demonstrated that this multilingual space challenged the language power dynamics of the classroom, and allowed for the testing out of academic ideas, in the nexus between community engagement and academic language development.
In addition to the three graduates in attendance, we also celebrated Dr Leanne Browning who graduated in absentia in October 2022. Congratulations to the graduates' supervisor, Professor Sioux McKenna, for supporting and enabling this significant achievement for these scholars.
Drs Mazvita Thondlana and Noma Ngcobo with CHERTL staff members.