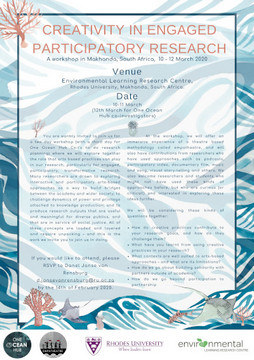 You are warmly invited to join us for a two day workshop (with a third day for One Ocean Hub Co-I's to do research planning) where we will explore together the role that arts based practices can play in our research, particularly for engaged, participatory, transformative research. Many researchers are drawn to exploring interactive and participatory arts-based approaches as a way to build bridges between the academy and wider society; to challenge dynamics of power and privilege attached to knowledge production; and to produce research outputs that are useful and meaningful for diverse publics, and that are in service of social justice. All of these concepts are loaded and layered and require unpacking – and this is the work we invite you to join us in doing.
At the workshop, we will offer an immersive experience of a theatre based methodology called empatheatre, and will also have contributions from researchers who have used approaches such as podcasts, participatory video, documentary film, music and song, visual story-telling and others. We also welcome researchers and students who might not have used these kinds of approaches before,
but who are curious (or critical!) and interested in exploring these ideas further.
We will be considering these kinds of questions together:
How do creative practices contribute to your research goals, and how do they challenge them?
What have you learnt from using creative practices in your research?
What contexts are well suited to artsbased approaches – and what are its limitations?
How do we go about building solidarity with partners outside of academia?
How do we go beyond participation to partnership?
If you would like to attend, please RSVP to Danel Janse van Rensburg d.jansevanrensburg@ru.ac.za by the 14th of February 2020.