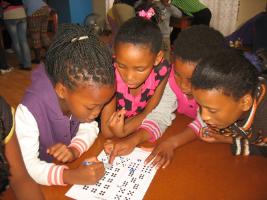 According to author and professor of Psychology Carol Dweck, the only way to physically grow
new synapses is your brain is to make mistakes. Professor Mellony Graven, the South African Numeracy Chair (SANC), and Dr Debbie Stott, the
Maths Club Coordinator and Senior Researcher on the project, have found this to be a good philosophy
underpinning the teaching of mathematics.
Describing their project as "a hub of mathematical activity, passion & innovation that blends teacher
& learner numeracy development with research in mathematics education" it is clear that hearts and
minds work as one on this project. Dr Stott has worked with Prof Graven in
the numeracy chair since its inception in 2011, simultaneously working towards her PhD and piloting,
establishing and running after school maths clubs at local schools. In the after school maths clubs the
kids are told that they can be messy, make mistakes, work on scrap, and think, talk about and solve
mathematical problems with their friends as well as being encouraged to have fun with mathematics.
The maths clubs operate in a very different context to that of a school where there are many constraints
that oblige teachers to work in a particular way. These can include large class sizes of 40 or more learners,
the need to teach to the curriculum and to manage the annual national assessments.
"In the club we only have 10 or 12 kids and we are doing it out of school time. We have a lot more
flexibility in terms of the curriculum we work with, the ethos and the way the kids work," said Dr Stott.
After running her first two maths clubs in 2012, and taking one of these to a second year in
2013, Dr Stott soon realised a model that offered the best way to engage with the learners around
mathematics: "I had the same group of kids for two years which was fabulous because I found that it
takes them six months to understand the ethos of the club and then there are only five or six months
to start working with them before school ends. In the second year the benefit is that they really start
to understand and to engage with the mathematics."
Her research, done directly within the maths clubs, earned her the Rhodes University Community
Engaged Scholar award in 2014. She was also invited to give a plenary session at the recent inaugural
Community Engaged Learning Symposium. There she presented on the interrelationship of research and
development in a community context and how they inform each other, and how a reciprocal relationship
can be developed in which everyone grows. "That is one of the wonderful things that the clubs give us
in our Chair is that opportunity for a research field where we can directly engage and give something
back," said Dr Stott. "We try and encourage all our Masters and PhD students to do some kind of
intervention in a maths club type environment so that they too are giving something back in addition to
undertaking their research in a community." With her PhD behind her, as the Maths Club
coordinator she is training other people as a way to broaden the sphere of influence of the maths
clubs. This year a group of Grahamstown NGOs has grouped together and secured funding to
work with teachers through GADRA and including Lebone, Child Welfare, Sun City, the Assumption
Development Centre and SMDCC among others. The SANC project is involved with training aftercare
centre club leaders to run maths clubs. "They have employed club leaders with their funding and are
doing maths clubs at least once a week," she said. Over the past two years the SANC project has
also run family maths events with good success. "We piloted them at the development centre
[SMDCC] and the first three drew at least 100 people every time," explained Dr Stott. "All the
aftercare centres have done them this year and I will be doing more later this year with the schools and
the clubs I work with."

The SANC project works with 45 teachers in 12 schools and tests a lot of their activities in the
clubs before taking them to the teachers. They have also encouraged schools to run family maths
events. This is a way of helping parents who want to learn how to help their children even if they are
not mathematicians themselves Dr Stott elaborated: "We have had really successful events and different
combinations of people getting involved. We encourage the children to use the support systems
that they can find in their immediate families and communities." Another pilot programme at these
maths events is to encourage Presidents' Award students from private schools and Rhodes to
volunteer at the events and clubs in fulfillment of the community part of their award.
Invitations to schools to do parent talks are also frequently taken up and an interactive website and
Facebook page publish all new resources, games articles and events to some 1400 followers.