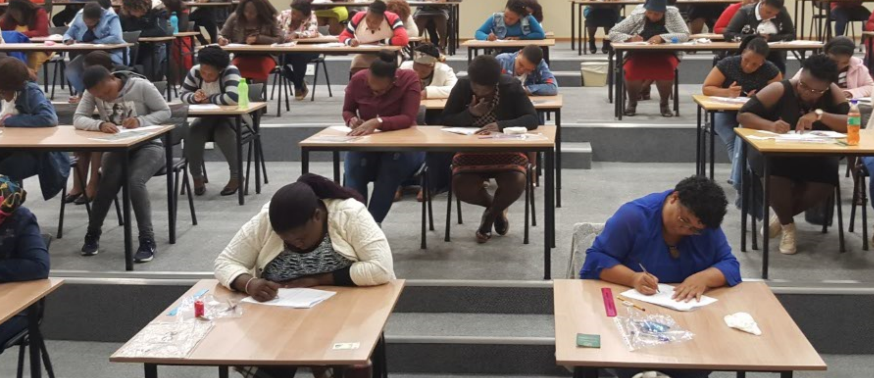 The students were in high spirits despite the course starting so early in the year. The cohort comprises 47 students; 39 are funded by the Eastern Cape Department of Education and 8 are self-funded. I am pleased to report that the attendance was 100%. The programme included an interesting lecture by Ms Carolyn Stevenson –Milln on integrating music and mathematics with a focus on self-regulated control in Early Childhood Development. According to the evaluation, 84% of the class found the contact session to be a good learning experience. Students mentioned that the lecturers were punctual, patient, organised, well-prepared and energetic. Topics the students particularly enjoyed were: group guided reading, history of education in South Africa, how to teach handwriting in the Foundation Phase and self-regulation. One student wrote "The lecturers were very fruitful and packed with knowledge. My lecturers are organised and know what they are teaching us. The topics are relevant and will help us a lot in our schools. I am also excited that we even learn about management."
The BEd team has been working endlessly over the last couple of weeks recruiting students for a new first-year cohort which starts on 3rd April 2018 at Rhodes University, Grahamstown. In order to qualify for the course, an applicant must have 360 credits (M+ 3), a teaching qualification, be in-service and pass the Academic Literacy and Mathematics placement tests. Mrs Johanna Muroa, the fieldworker for the Northern Cape teacher education project funded by SIOC, undertook a recruitment drive the Northern Cape from 29th January 2018 to 3rd February 2018. To date we have received 100 applications of which only 36 may be accepted.
I am delighted that the Eastern Cape Department of Education has approached CSD to train another cohort of BEd students. To this end, 87 candidates wrote placement tests on Saturday, 17th February 2018. The results will be available on Wednesday, 28th February2018. The number of applicants who have applied to register for the BEd course in both the Northern and Eastern Cape Provinces is indicative of the dire need for Foundation Phase teachers to upskill and improve their qualifications.