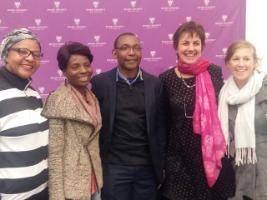 Two projects shared the spoils at this year's Vice Chancellor's Distinguished Community Engagement Awards in April 2017. The WRC Amanzi for Food Research Programme and the Recreational Fisheries Research Group came first place in the competitive annual award, which recognises meaningful and committed partnerships between members of the university and the community.
"These awards are based on the developmental and reciprocal nature of initiatives. We look into the nature of the relationship a group has with their community partner, the benefits to the community, university staff, students and the way the initiative enhances teaching, learning and research processes. Winning means a group has made a significant allround contribution," enthused Dr Sizwe Mabizela, the Vice-Chancellor.
WRC Amanzi for Food Research Programme from the Environmental Learning Research Centre.
The programme addresses widespread hunger in South African households that rely on small portions of agricultural land for food security. The growing shortage of water means that the allocation of 'new' water for developing the smallholder farmer is not sufficient.
Amanzi takes an action-oriented, expansive learning approach to knowledge co-creation. They facilitate dissemination and training for skills development around water use in homestead food gardening and rainwater harvesting for cropland food production in the Amathole District in the Eastern Cape.
The project was selected as one of three projects internationally as a case study of 'innovative green economy learning'. Additionally, it was selected as a case study of innovative TVET pedagogy and partnership development for the Department of Higher Education and Training (DHET) National Skills Development Strategy III Evaluation.
The Recreational Fisheries Research Group.
There are between 500 000 and 900 000 marine recreational fishers in South Africa. The catch of the recreational fishery is subject to regulations, the majority of which were implemented in a top-down approach. Recent study estimate that about 43% of anglers do not comply with these regulations.
Ultimately, if one wants to benefit under-resourced fishing communities, and address social injustice, addressing the harvest of recreational anglers is crucial. This community engagement initiative by the Recreational Fisheries Research Group undertaken since 2011 has engaged with compliant anglers in recreational fishing communities to enhance their practices in order to improve the health and survival of the fish that they release.
Since 2011, the Research Group immersed themselves into the culture and norms of the communities to develop voluntary conservation behavior, which requires anglers to mobilise themselves and establish informal regulations such as self-imposed personal bag limits, size limits, constraints on gear and the development of entirely catch-and-release fisheries.
"Congratulations to these two teams, who established mutually respectful and beneficial relationships as they jointly tackled and found solutions to complexed local issues. The Faculty of Science and the Faculty of Education must also be acknowledged for creating enabling environments where innovation and engaged research can flourish," enthused Diana Hornby, Director Community Engagement
Rhodes Staff Newsletter, May 2017
https://www.ru.ac.za/communityengagement/ceawards/ceawardwinners/vcsdistinguishedaward/2016vcsdistinguishedawardrecipient/#d.en.172072
The WRC Amanzi for Food Research Programme from the Environmental Learning Research Centre at Rhodes. The group is led by Heila Lotz-Sisitka. Other members of the group include Tichaona Pesanayi, Kim Weaver, Chisala Lupele, Lawrence Sisitka, Rob O'Donoghue, Phindile Sithole, Wilma van Staden, Chris Mabeza, Jonathan Denison and Katrina Phillips.