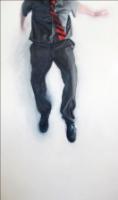 Rhodes > Fine Art > Latest News
Faceless but not nameless
Date Released:
Fri, 10 February 2012 13:00 +0200
Posing a subtle and refreshing commentary on the confines of society, Masters Fine Art student Mark Farmer's exhibition, In Line, has been described as "compositionally very tight and the rendering detailed and sharp, not unlike an official school photograph."
The portraits on show at the Albany Museum's Alumni Gallery until 3 March are, according to Fine Art HOD, Prof Dominic Thorburn, faceless but not nameless.
"Farmer has intentionally titled his works with their first names unlike the school system that prefers family surnames that subjugate individuality," he says.
In strong contrast to this is Leap, exhibited on the opposite wall of the gallery. Here the boys are depicted with the use of free, feathery brushstrokes - denoting a sense of movement- as they are captured leaping off desks in mid-air.
Ms Tanya Poole, who was Mark's painting co-supervisor along with Prof Brenda Schmahmann, says it is this kind of representation which makes Mark's work such a subtle yet strong commentary.
"It was incredibly rewarding to work with Mark," she says. "He is generous, tenacious and he has integrity. You can see it in the humanity and tenderness in this show. All these qualities are just underneath his technical mastery and excellence."
Prof Thorburn praised Mark for his astute observation skills and well rendered technique, in particular for working in charcoal, a notoriously messy medium. He commended him for "mastering his medium within the discipline" and fulfilling the degree requirements.
"The MFA degree is an internationally recognised professional practice degree and generally considered the terminal degree in Fine Art practice. Our degree is also recognised as a research degree (as opposed to a coursework one) and is widely respected. While the major element of the degree submission is the exhibition, the candidate also writes a 15 000 word supporting mini-thesis or dissertation," says Prof Thorburn.
As a student assistant at Grahamstown's Kingswood College, Farmer soon noticed how the boys under his care continuously assert their individuality in small ways-– by leaving their shoelaces untied or undoing the top button on their shirts.
Critically engaging with these tendencies, Farmer noticed how such behaviour, which is usually perceived as rebellious or 'out of line', is in fact healthy. This compelled him to play with the concept of staying in (and out) line – both in terms of technique and content.
While discussing his work, Farmer becomes shy and passionate. He is particularly grateful to his mentors, including the late Mark Hipper and Ms Poole, whom he says "urged me to leap. She helped me to paint more vividly and loosely, blurring the lines and creating motion."
The idea of the leap was inspired by the photographer Philippe Halsman, who captured a more natural and less guarded side of his celebrity subjects by making them jump into mid-air.
Acting as a bridge between the two are six charcoal drawings, depicting the boy's possessions: a precariously balanced sports bag, an unlocked metal trunk, a dog-eared pile of books. These are moving and quietly observed moments, and careful counterpoints to the images in the two oil paint series.
By Anna-Karien Otto
Photo: supplied
Source: