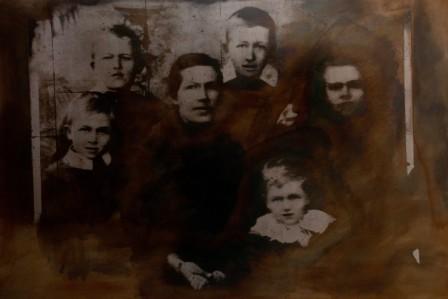 Rhodes > Fine Art > Latest News
Maria's Story
Date Released:
Wed, 27 June 2012 10:59 +0200
Based on her great-grandmother Maria's own account of her flight from, and later capture by, British troops during the Anglo-Boer war, Maureen de Jager, the National Arts Festival Artist-in-Residence has created Maria's Story exhibition.
Senior Lecturer at the Rhodes Fine Art Department, has incorporated transfers on steel, sculpture, installation, video and an artist's book to bring into existence a mixed media exhibition.
Initially conceived of as a journey into the past, it has become for De Jager as much a story of the present, a way of setting herself and her history into a context she can claim as her own.
The reality behind the exhibition "Maria's Story", located in the Standard Bank Gallery, Albany History Museum, was brought to vivid life by the artist De Jager during its launch recently.
Maria de Jager entered the Winburg concentration camp seven months pregnant, and with five small children. Within a few months the baby and her three youngest children were dead; ill herself, she had her long hair clipped away so as to break the high fever she was running and, possibly, suggests her great-granddaughter, to break at least a small link with her recent tragic experience.
In a powerfully moving performance art piece, Maureen de Jager faced a large audience at her exhibition preview and created a bridge between that past and this present by asking her father, Maria's grandson, to cut away her own long hair, leaving her head shorn in a striking visual image which will live with the audience for a long time.
"Maria's Story" follows the De Jager family through the 20th Century, and concludes with a work referencing the physical journey made by De Jager and her father, retracing Maria's flight of over 100 years ago.
This journey is chronicled in a video diary, which will be playing at the exhibition, as will a recording of her preview performance along with the reading, in Afrikaans, of a portion of the original text. De Jager will conduct several walkabouts during the Festival and, as Artist-in-Residence, she will have a studio set up adjacent to the exhibition, where visitors can see the processes involved in bringing an exhibition of this nature to life.
De Jager has lovingly, and with great care and attention to detail, given her ancestors the voices that time had removed from them; working with light cabinets and images transferred onto tarnished and blued sheets of metal, she has enlarged cherished and cracked family photographs to a size where the onlooker seems to be looking through a window, eye to eye with Maria herself.
By Jeannie McKeown
Maria's Story
Standard Bank Gallery, Albany History Museum
Open daily during the National Arts Festival, 28 June – 8 July
Walkabouts with the artist: 1 July at 2pm; 3 July at 12pm; 5 July at 10am and 7 July at 12pm
Artist-in-Residence demonstrations of techniques and processes: 11am – 12pm daily during the Festival
Source: