"Human beings make art to find and give meaning"
Date Released : 08/04/2013
I am honored and still somewhat bewildered that I have been chosen to receive this honorary doctorate.
Citation for Carol Hofmeyr: Honorary Graduand
Date Released : 09/04/2013
In the year 2000 Carol Hofmeyr and her husband, Justus, moved from Gauteng to East London, also buying as a weekend seaside cottage a derelict house in the small coastal village of Hamburg, midway between East London and Port Alfred.
'Reluctant medic' highlights poverty
Date Released : 08/04/2013
DR CAROL Hofmeyr, founder of the Keiskamma Art Project, this weekend gave an account of shocking poverty in parts of the Eastern Cape, the desolation wrought by HIV/Aids and of dealing with an uncaring government and civil service.
Medic to receive Rhodes honour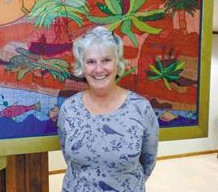 Date Released : 21/02/2013
A MEDICAL doctor who moved to a poor Eastern Cape backwater years ago and set up a community art project will receive an honorary degree from Rhodes University for her groundbreaking work fighting poverty and HIV/Aids.