New Staff
Welcome to all new staff at the University! We are delighted that you have decided to join the Rhodes University family.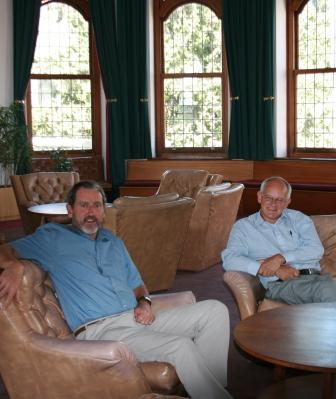 Jonathan Campbell and Jobst Bodenstien
We hope that your time at the institution will be characterised by:
Challenging and rewarding work
An opportunity to demonstrate your leadership whether at the departmental, Faculty or institutional level
Support from your peers and Head of Department for your endeavours
Support from the University as regards necessary resources to develop yourself, to teach, conduct research and participate in community engagement activities
Your contributing in an excellent manner to your department, Faculty as well as the institution as a whole
Recognition for your contribution and role particularly within your department and Faculty
Moving to a new institution always requires some orientation. For those moving into academia for the first time, the newness is compounded with the uniqueness of the culture and activities of higher education institutions.
Rhodes University provides induction and orientation initiatives to help these individuals make this transition as smoothly as possible. New staff are encouraged to participate in these activities and to avail themselves of the information on this site.
You are also encouraged to refer to the:
Jobs Website which has some helpful information aimed primarily at prospective employees. However, particularly if you are new to Rhodes and Grahamstown you might find this helpful.
Last Modified: Fri, 15 Jul 2011 14:58:03 SAST