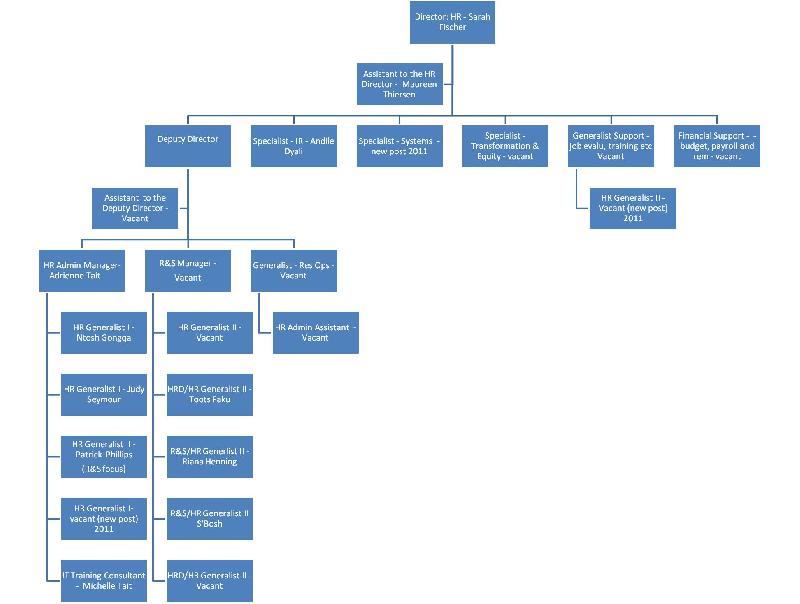 Human Resources is pleased to announce that we intend to restructure our Division, in line with feedback from the HR Dialogue held with staff and management in January 2009. The Dialogue was an interactive engagement amongst staff, management and HR as regards people management at Rhodes and the facilitation thereof by HR partnering with staff and management.
The diagram on the right represents the new staff structure. Please click for enlargement.
The restructure has been designed according to the following guiding principles:
1. To maximise service offered to staff and management:
a. The new structure of generalists and senior generalists will facilitate a better understanding of faculty, departmental and divisional needs and therefore allow for better responsiveness to the unique needs of these different areas;
b. The new structure will ensure availability of HR staff. The current "silo" structure of specific areas means that when some staff are not available, others are not able to assist because they are not trained in these areas.
2. To facilitate appropriate alignment between strategic and operational needs. The new structure through the separation of the specialists (whose primary focus is strategic work) and the generalists (whose primary focus is operational work) ensures that not only does the urgent work get done but that also the strategic work gets sufficient attention;
3. To ensure a balanced work-load between HR staff as well as the efficient and effective use of posts available. This includes the need for increased support for Director of HR;
4. To ensure the provision of a structure that meets HR good practice:a. The move to hybrid model of decentralised HR Generalists and centralised Specialists in support is more in line with HR good practice;b. The new structure allows for maximum options for succession planning and therefore retention of HR staff with good opportunities for advancement and development;c. The new structure allows for the recruitment of Generalist staff who are more easily deployed than specialists.
The current HR staff have been consulted about the new structure and have indicated their intention related to posts in the new structure. The proposal has also been tabled at Senior Management where it was met with support from our institutional leaders.
The move to the new structure has in part been feasible because of a number of vacant posts in the HR Division. Accordingly, in the next few months, HR will be advertising a number of generalist and specialist posts.
Source:
Please help us to raise funds so that we can give all our students a chance to access online teaching and learning. Covid-19 has disrupted our students' education. Don't let the digital divide put their future at risk. Visit www.ru.ac.za/rucoronavirusgateway to donate