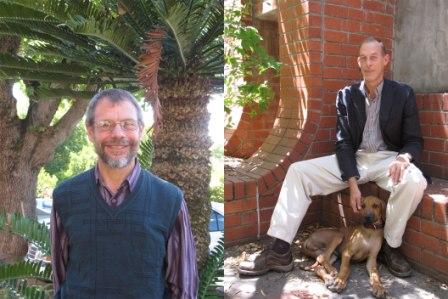 A warm welcome goes out those taking up their terms of office as Heads of Department for 2010.
Prof Warwick Sauer – Department of Ichthyology and Fisheries Science
Prof Rose Boswell – Department of Anthropology
Prof Hennie van der Mescht – Department of Education
Prof Ralph Adendorff – Department of English Language and Linguistics
Prof Dominic Thorburn – Department of Fine Art
Thank you for accepting these roles of intellectual and people management responsibility. We look forward to a productive partnership in 2010.
Two Professors appointed recently and taking up HoDship require particular introduction.
Prof Nigel Tempest Bishop (MA Cambridge, PHD Southampton, FRAS) was appointed as HoD in Mathematics from October 2009 and Prof Dirk Klopper (MA, PhD Unisa) took up his appointment as Head of the Department of English in January this year.
Born and bred in Wimbledon London, Prof Bishop, read for his undergraduate and Master's degrees at Cambridge. He moved to South Africa in 1976 to work at WITS in the midst of the Soweto Uprising and continued his career at UNISA as Professor of Applied Mathematics.
His particular field of study is the mathematical calculations to predict occurrences and process observations of Black Hole interactions. He is a Fellow of the Royal Astronomical Society.
Prof Bishop met his wife Özlem in 2003 in Berlin while working in Max Planck Institute. Dr Özlem Ta?tan Bishop was appointed at Rhodes as Senior Lecturer in October last year in Bioinformatics.
Prof Klopper grew up in the Free State, but was sent to boarding school at Dale College in King William's Town. He studied for his undergraduate degree at the University of Natal, Pietermaritzburg and read for his PhD through UNISA. The subject of his doctoral thesis was the encounter between Europe and Africa in the colonial poetry of the Eastern Cape.
In the 1980's he worked at Vista University in Mamelodi. His career has taken him through RAU and Stellenbosch, where he headed up the English Department. In 2001-2002 he held a Commonwealth Fellowship at Linacre College, Oxford University. 
Prof Klopper is interested in the relationship between language, landscape and cultural identity. Working at Rhodes and living in Salem are a home-coming to the landscape and literary imaginary of the Eastern Cape.
The Human Resources Division and Rhodes community welcome you both and wish you well.
Source:
Please help us to raise funds so that we can give all our students a chance to access online teaching and learning. Covid-19 has disrupted our students' education. Don't let the digital divide put their future at risk. Visit www.ru.ac.za/rucoronavirusgateway to donate