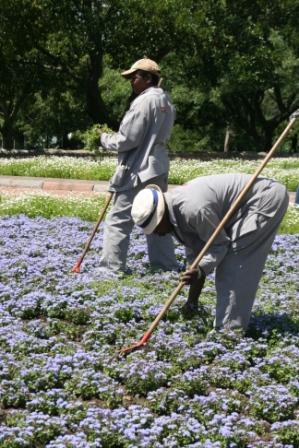 Melwyn Lurwayi and Jeffry Qubuda weeding
RU recognises the importance of its remuneration strategies in attracting and retaining staff.
The institution is committed to:
Transparency as regards institutional practices related to remuneration and benefits;
Seeking to ensure equitable remuneration practices;
Seeking to ensure competitive remuneration within the Higher Education market in South Africa.
A Remuneration Committee of Council is responsible for ensuring appropriate remuneration practices for all staff at Rhodes University.
There has been considerable focus in the last two years on documenting current remuneration practices for support staff to ensure transparency and fairness. As a result, various guidelines for Support staff remuneration have been developed.
During 2009 the Support staff remuneration scales and practices have undergone a major review.
Last Modified: Mon, 29 Aug 2011 12:09:03 SAST