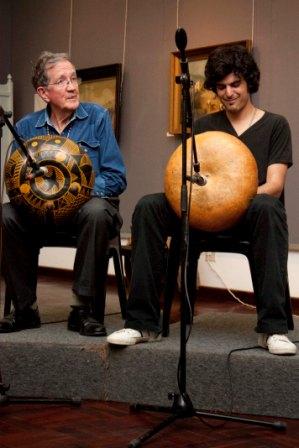 "For Future Generations", an exhibition showcasing Hugh Tracey's work in recording and documenting the indigenous music of sub-Saharan Africa, opened at the Albany History Museum Last week. 
It was the Eastern Cape premiere of this traveling exhibition, which forms the outreach and education component of a two-year cataloguing and digitizing project undertaken during 2008 and 2009 by the International Library of African Music (ILAM).
The exhibition aims to educate exhibit goers about Hugh Tracey's legacy and disseminate the rich heritage of African music. It was his mission to preserve 'for future generations' and the exhibition in a way fulfils his mission.
Greeted by marimba players on the steps of the Albany Museum, guests listened to Acting Chairman of the Board of the Albany Museum, Professor Michael Whisson introducing the exhibition.
The opening ceremony featured not only the Lundu family musical group playing to a public audience for the first time, but also a number of fascinating insights into the life and work of Hugh Tracey and his son, Professor Emeritus Andrew Tracey.
As Prof Whisson explained, while the father dedicated his life to collecting and preserving African music, the son, while continuing this work, learnt to play almost any style or form of instrument.
Dr Peter Clayton, Vice-Chancellor for Research and Development, extolled Hugh Tracey's consummate skill as a researcher, stressing his suitability as a mentor for Rhodes University staff and students who are working towards the goal of establishing the University as one of the top research institutions in the world.
Funded by the Rand Merchant Bank Expressions Programme, "For Future Generations" displays a selection of 20 African musical instruments from the Tracey collection and provides displays of his print publications and audio recordings. In addition, there is video footage of mine dancing, Shona music and story-telling and Chopi xylophone orchestras.
A 1939 Hugh Tracey film of Zulu bow music is projected onto a big screen, and his son Andrew's film from the 1970s, "System of the Mbira" is also shown.
Hugh Tracey worked as a broadcaster for many years, and visitors to this exhibition are given the opportunity to listen to one of his radio shows. In addition, display cabinets prominently feature artifacts from his field research, and the photographs taken during his field excursions vibrantly bring his work to life.
A handsome exhibit catalogue edited by ILAM's Director, Prof Diane Thram, features Hugh Tracey's never before published and highly scientific 1932 report to the Carnegie Foundation and an article by Andrew Tracey that comments on each of the 20 instruments from the Tracey Collection displayed in the exhibit. It also includes a 20 item CD with a field recording of music being played on each instrument displayed in the exhibit.
The exhibition opened in conjunction with SciFest 2011 and offers a daily workshop on 'tuning sound' in the Scifest programme conducted by Andrew Tracey. As Prof Thram, Director of ILAM, made clear during her comments, "For Future Generations" aptly illustrates the theme of the 2011 festival, Science Across Cultures.
The exhibition will run until 30 July, and it will also be featured in the National Arts Festival Programme. It will then move to the SABC headquarters in Auckland Park during Heritage Month. From there it will travel to the Iziko Museum, housed in the Castle in Cape Town, where it will be on display at least two months into 2012. Outreach and educational programming with school groups will be undertaken throughout this time.
Story by Jeannie Mckeowin
Photo by Sophie Smith
Source:
Please help us to raise funds so that we can give all our students a chance to access online teaching and learning. Covid-19 has disrupted our students' education. Don't let the digital divide put their future at risk. Visit www.ru.ac.za/rucoronavirusgateway to donate