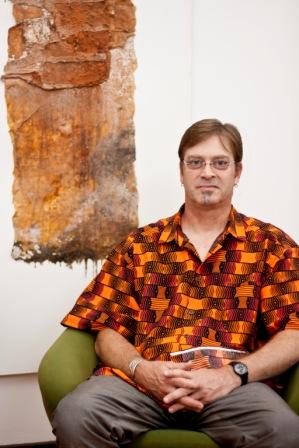 The Department of Fine Arts has been celebrating an especially good year when it comes to graduates of the Bachelor of Fine Art (BFA) degree. Out of 21 BFA graduates, 13 received distinctions, with three of those being double distinctions for both academic work and studio practice.
Senior Lecturer, Ms Maureen de Jager points out, the average Studio Practice mark among the graduating body of students was 70%, so even those who did not receive a distinction only just missed it.
What leads to such a bumper year, and is it unusual? Professor Dominic Thorburn muses on this; it is significant, he says, but last year was probably more or less the same. It's difficult to pinpoint the reasons for the high rate of distinctions, but, he says one has to look at the quality of teaching the students receive, and the level of support they have from both the staff of the Department and their own fellows – the group dynamic is important and the last two years have seen the formation of tight-knit, supportive groups of students. Additionally, he says, here at Rhodes University the Studio Practice and Art History & Visual Culture streams are based in the same Department, unlike some other schools which keep them separate. At Rhodes, the theory side underpins the practice, which according to Prof Thorburn is an ideal state of affairs.
Students can focus their work in one of five different media areas: Painting; Sculpture; Photography; Print-making and Digital Arts. They are encouraged to find inspiration from within their own lives and experiences, as Ivy Kulundu, who received a distinction, did when she found herself unexpectedly pregnant at the start of her final year. Students are allowed and indeed encouraged to work across the boundaries of their chosen specialty, and utilise and integrate aspects of the other disciplines. This results in a great diversity of artwork and Ms De Jager says that as much as there was a big body of distinctions, no two works in the 2010 graduating class exhibitions looked alike. In fact, the external examiner, Virginia MacKenny from the Michaelis School of Fine Art at UCT, commented favourably on this incredible range of student responses.
MacKenny, herself a renowned artist and known to be a strict marker, also noted that the standard of work was highly impressive, especially when taking into consideration that Rhodes is relatively isolated, unlike the Art Schools of UCT and Wits, who have access to a thriving art world outside of their universities. In addition, these schools have the advantage of important contemporary galleries in their immediate area. However, Ms De Jager feels that Rhodes' isolation is, in many ways, a good thing, as students here are less pressurised by the latest 'flavour of the month' art trend, and are able to focus more on their own exploration and how to represent what is important to them.
Both Ms De Jager and Prof Thorburn are pleased that there is no set "Rhodes look" to the art produced, and neither is there a visible homage to lecturers. While it is often said that imitation is the sincerest form of flattery, Prof Thorburn says firmly that both he and his colleagues prefer to encourage students to find their own visual language and they enjoy seeing an increasing sense of integrity emerging as students mature as artists.
The final year of a BFA degree sees the students staging a mini-exhibition of their work, which must be both professionally hung and lit, and presented in as polished a manner as possible. Ms De Jager comments that she has noted the increasing professionalism of these shows: "Every year, the bar is being raised," she says. It would seem that the 2010 BFA graduates have left big shoes to be filled in 2011.
By Jeannie McKeown
Photo by Sophie Smith. Photo Prof Dominic Thorburn, HOD.
Source:
Please help us to raise funds so that we can give all our students a chance to access online teaching and learning. Covid-19 has disrupted our students' education. Don't let the digital divide put their future at risk. Visit www.ru.ac.za/rucoronavirusgateway to donate