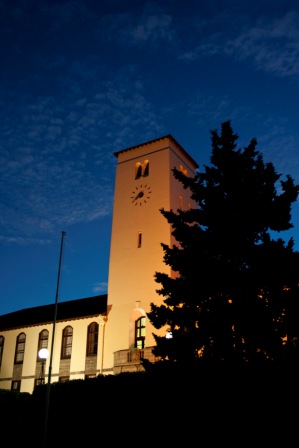 The Allan Gray Orbis Foundation has this year selected six Rhodes students to be awarded the Allan Gray Fellowship, which provides bursaries for grade 12 high school learners and first-year university students in the faculties of Commerce, Science (excluding medicine), Engineering and specific Humanities majors in Politics, Philosophy or Economics.
Lloyd Etherington, Shaun Letswee (both in the Faculty of Commerce), Nobubele Phuza, Selowkwane Morake, Valerie Motsumi and Timothy Kuiper (of the Faculty of Science) were awarded the Fellowships at the beginning of 2011. They were six of fifty-three newly selected Fellowship beneficiaries from South Africa's seven top universities. 
The six new Fellowship awards bring the total number of current Allan Gray Fellowship beneficiaries at Rhodes University to sixteen.
According to Blaise Dobson, an Allan Gray Fellow and Rhodes University Alumnus, the Allan Gray Orbis Foundation "seeks to equip high growth entrepreneurial leaders in Southern Africa to foster a generation of catalysts for change in the region."
The Fellowship was established in 2005 to provide skills and help support would-be entrepreneurial leaders. It provides bursaries which cover tuition, residences, book and living expenses, as well as provide mentorship and entrepreneurship development programmes for the students throughout their studies.
"My application for the Fellowship began early in January last year."Explains Selowkwane Morake, a first-year BSc student and one of the Rhodes Fellows, "a few weeks after I sent in my application, I received a message from the Foundation telling me I made it through to the interview stage of the selection process. After I succeed through that round I went through to the Early Selection camp where there were only 44 learners around the country."
The Fellowship also allows graduated Allan Gray Fellows who have excelled access to possible funding for post-graduate studies, and graduated students after having gained some work experience are able to apply for the start-up capital for their own business via E², the BBBEE empowerment vehicle of Allan Gray Limited.
"I feel honoured, proud and victorious [to have been awarded this scholarship]," said Valerie Motsumi, another of the Fellowship recipients and a first year BSc student, "it gave me the self-confidence I needed; now I know I can achieve almost anything if I put my mind to it."
The universities who participate in the Fellowship are: University of Witwatersrand, University of Johannesburg, University of Pretoria, University of Cape Town, Nelson Mandela Metropolitan University, Rhodes University and the University of the Western Cape.
Story by Robyn Kirk
Picture by Sophie Smith
Source:
Please help us to raise funds so that we can give all our students a chance to access online teaching and learning. Covid-19 has disrupted our students' education. Don't let the digital divide put their future at risk. Visit www.ru.ac.za/rucoronavirusgateway to donate