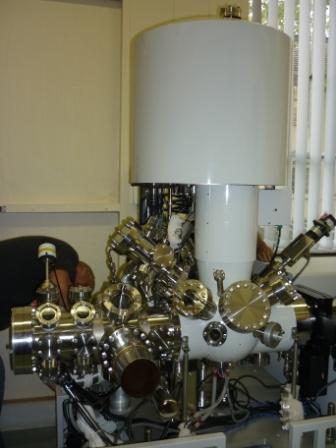 The Department of Science and Technology/Mintek Nanotechnology Innovation Centre (NIC-Sensors) at Rhodes University last week acquired an X-ray Photoelectron Spectrometer (XPS), a piece of technology that can elucidate the atomic structure of a material. 
The XPS machine, the first of its kind to be purchased in South Africa, can 'see' material in the nanoscale, making it an essential tool in the field of nanotechnology – an area which has been a catalyst for major advances in a rage of scientific disciplines from chemistry and physics to geology and biotechnology.
The R7 million technology which cements the university's status as a leading research institution was delivered to the Rhodes NIC-Sensors on May 10.
As the equipment was offloaded, students, lecturers and onlookers watched in bemused wonderment, each offering a wager as to the function of this bizarre gadget. Among the speculations were, "space object" and "something for deep ocean exploration". The debate lingered as the delivery crew struggled to fit the instrument through of the door of the NIC-Sensors. Eventually the door frame was shaved to accommodate the sizeable machine.
"This really brings us to the top level of research in the country and worldwide," said Director of the NIC, Prof Tebello Nyokong, who explained that the equipment is already drawing international students and researches who want to explore nanotechnology themselves. "What we have here is so special you don't even have it in Europe", said Prof Nyokong, "You will never see so much technology in one university, under one roof."
But the purchase would not have been possible without a grant from National Research Foundation (NRF). Over a year ago, Prof Nyokong submitted an application to them, in which she emphasized how an instrument like the XPS could elevate the scholarship of the NIC-Sensors, developing its students for top-level research positions.
Prof Nyokong stressed that this particular model was chosen for its accessibility. "The beauty of the one we bought is that students can get hands-on, close," said Prof Nyokong, explaining that unlike many instruments of its kind, this one allows some level of direct student use.
Though it may be a highly particular, meticulous field of study, nanotechnology has profound implications on both science and society. Instruments like the XPS allow access to previously invisible information.
"Geologists can look at the elemental composition of rock surfaces, pharmacists can use it to examine drugs and drug delivery agents, physicists can use it for thin films in electronics," said Prof Nyokong. "It means we are getting very close to seeing the atom."
Story by Hailey Gaunt
Source:
Please help us to raise funds so that we can give all our students a chance to access online teaching and learning. Covid-19 has disrupted our students' education. Don't let the digital divide put their future at risk. Visit www.ru.ac.za/rucoronavirusgateway to donate