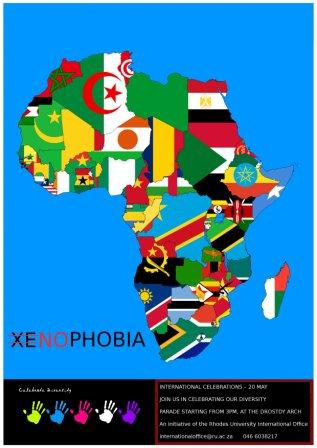 The Rhodes International Office has invited international, and South African students and Grahamstown citizens to take to the streets this Friday to celebrate its global community. 
As part of Africa Week (which runs from 16 to 20 May this week), International Office Director , Orla Quinlan decided to broaden the scope beyond Africa, embracing elements of international cultural diversity. Everyone is welcome at the International Day parade which is organised around the theme "celebrating diversity, global into local".
"Twenty percent of the students at Rhodes are international so this parade is to acknowledge the fact that Rhodes is an international university, within a unique Eastern Cape context," says Quinlan. The parade is a fun way for everyone involved to express their identity in a welcoming, rejoicing environment.
Everyone is encouraged to sing in their own language and carry banners or greetings. Dressed colourfully, all the participants will gather at Drostdy Arch on Friday afternoon at 3pm to proceed down High Street towards the Cathedral. The Graeme steel-band will be at the Cathedral to welcome them, from there they will go back down High Street to the Great Field where some of the groups will entertain the crowd.
As a final flourish, a soccer match between Zimbabwean and South African students will take place and a variety of different food and snacks will be on offer.
With only six weeks to prepare, many people got together to make it all happen. Twenty groups, including local cultural groups, student societies and schools will be participating. Quinlan says many people (both on and off- campus) made themselves indispensable but the key organisers are Annemi Conradie of the Fine Art department, Roger Adams from Sports Admin, Susie and Debbie Radloff of the International Office and Vera Adams of the Centre for Social Development (CSD).
Annemi was in charge of the visuals and facilitated a workshop where Nigerian, Zimbabwean, Irish, South African and UK students created banners with children from the Sakhuluntu group, based in Extension 8. Adams coordinated the Great Field component and Susie and Debbie were in charge of music and sound. Even Rebecca Surrender, who visited the Institute of Social and Economic Research (ISER) from Oxford University, knuckled down to help create a map of the world along with learners from the CSD. "In this way it becomes a matter of from hand to heart to head," added Quinlan.
Email international office@ru.ac.za for more information.
By Anna-Karien Otto
Source:
Please help us to raise funds so that we can give all our students a chance to access online teaching and learning. Covid-19 has disrupted our students' education. Don't let the digital divide put their future at risk. Visit www.ru.ac.za/rucoronavirusgateway to donate