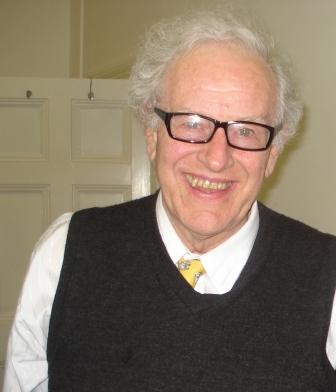 The Confucius Institute and Department of Political and International Studies at Rhodes University, recently hosted an expert on Chinese culture and ethnicity, Prof Colin Mackerras, Professor Emeritus of Griffith University in Australia. 
Prof Mackerras presented a paper entitled, "Minority nationalities in China in general", in which he discussed the country's present-day demographics, and its impact on the social milieu.
This was a part of a collaborative initiative between Prof Mackerras and Director of the Confucius Institute, Professor Marius Vermaak. "At a meeting I had with him in Beijing, Prof Vermaak suggested I visit South Africa and give talks on China to his colleagues and students. I jumped at the chance. We followed it up with one another through numerous later emails, and were able to settle on a mutually suitable time, so here I am."
China currently recognises 55 minority ethnic groups. Its 2010 census, which was released in April 2011, revealed a total population of 1,339, 724,852 of which ethnic minorities comprise 8.49 percent, or 113, 792, 211 people. This includes such minority groups as the Hui, Uygurs and Kazaks, who are Muslim minorities, as well as those professing to be Tibetan Buddhists, which includes both Tibetans and Mongolians. There are a range of other ethic groups, including the Manchus, who once ruled China. While the dominant ethnic group, the Han, constitutes 91 percent of the population, Prof Mackerras said the number of minority ethnic groups have been rising consistently in recent years.
Although the Chinese state defines itself as a multinational unitary state, it has been argued that the notion of the 'Zhonghua minzu', or Chinese nation, largely excludes ethnic minorities. "In my opinion the Chinese state is too nationalistic toward ethnic minorities. I know this because I've spoken to members of these groups and they speak of a certain 'Hanisation' of ethnic groups, along with the growth of the Chinese state," Prof Mackerras said.
Concerning the integration of minority ethnic groups, he said some have integrated more easily with the Han than others. "Some groups have done better in terms of development, but others have done much worse economically," he said. Of the groups who are least integrated and have yet to benefit from aspects of modernisation, Prof Mackerras said the Tibetans are at the top of the list. "Tibetans are definitely poorer, maybe due to their high-lying infertile region they inhabit, but there are also cultural factors involved," he said.
Prof Mackerras also highlighted the sensitive issue of whether or not economic development creates certain patterns over time, such as the effects of uniformity on minority groups. As a result of economic growth, differences between cultures disappear, such as the form of housing infrastructure that people settle for. "Whereas in certain minority groups the type of building they inhabit is an important aspect of their ethnicity, with economic growth we are seeing a uniformity appear. The correlation of economic development and modernisation in traditional cultures is very interesting, and states must be aware of it," he said.
In general, he believed that an overall increase in ethnic consciousness has occurred in China, especially since the 1980s reform process, which allowed much more freedom to ethnic groups. He also said that, overall, the Chinese state hasn't handled ethnic minority groups too badly. "I think that minorities are very important in China, and any state or government that ignores this will be asking for trouble. But I believe the situation for minorities in China has improved and that ethnic relations on a whole are alright," he said. Prof Mackerras also suggested that where ethnic tensions are overt, as in the case of the Tibetans, this is an exception in China, rather than a rule. "As a result, I would be very surprised if China falls apart in the near future," he said.
Prof Mackerras has long wanted to visit South Africa, and has been fascinated by the Truth and Reconciliation Commission as well as Nelson Mandela. "My image of South Africa was that it was a beautiful country with a fascinating and important history, although not always a happy one, and a country highly significant for any student of ethnicity. Of course South Africa has a great many serious problems as well, but they are reasons for trying to understand, and visiting a country can only help towards understanding its achievements and its problems," he said.
Prof Mackerras's main research interests include Chinese culture, especially theatre, and minority nationalities. He has written extensively on Australia-China relations and on Western images of China.
Story and photo by Sarah-Jane Bradfield
Photo: Prof Colin Mackerras.
Source:
Please help us to raise funds so that we can give all our students a chance to access online teaching and learning. Covid-19 has disrupted our students' education. Don't let the digital divide put their future at risk. Visit www.ru.ac.za/rucoronavirusgateway to donate