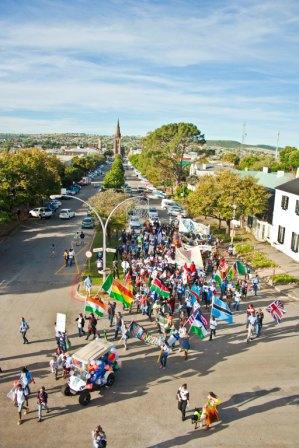 Smiles, colour and music spilled out onto High Street on Friday afternoon, as the International Day parade took on a life of its own. As a fitting start to Africa Week, international students and local groups sang and danced - waiving colourful banners and flags with the greetings of various countries - from the Drostdy Arch to the Cathedral and then on to the Great Field. 
For many of the participants, this was their first parade and, as activist and Student Services Officer Larissa Klazinga commented in passing: "It's good to see that no one is angry or fighting about something for once."
Organised by the International Office around the theme, "celebrating diversity, global into local", members of Rhodes' Hindu, Chinese and West and East African societies, amongst others, teamed up with local groups like Rotary International and Sakhuluntu, to pull off the event. Sakhuluntu's giant puppets, which are a highlight of the National Arts Festival parade each year, towered above the singing, dancing and drumming throng. Members of the St Augustine's Church food garden were also there, suggesting week's sub-theme of promoting local, sustainable projects like feeding children at schools in Joza.
Ed and Sydney, two Irish therapy dogs accompanied by Dr Trudi Meerhan, a senior lecturer from the Psychology Department, also joined in the festivities. Vice-Chancellor, Dr Saleem Badat along with Deputy VCs, Dr Sizwe Mabizela and Dr Peter Clayton, also attended various events throughout the day. Dean of Humanities, Prof Fred Hendricks and Dean of Students, Dr Vivian de Klerk looked decidedly relaxed; even one of the traffic officials was jiving to some of the Bollywood beats as the parade gathered at the Drostdy Arch.
"It's wonderful to see the breadth of diversity within a relatively small group," said International Office director, Orla Quinlan. "It's like a little carnival." Quinlan said she is very pleased that the team pulled off an inclusive, fun event. "The concept is simply, by doing something together, we get to know each other and build an understanding of each other. In this way we are proactively addressing the issue of xenophobia. The message is simple: be curious, be open, come along... you just have to be you."
Quinlan would especially like to thank Annemi Conradie, Bronwyn Salton, Dotun Makuna and Rachel Baasch, who organised the hand painted banners and greetings; Eben Lochner, who designed the posters; Merran Marr who co-ordinated the groups associated with Sakhuluntu; Felix Munyai from Sports Admin and Harry Rama, a local businessman.
Lead by Quinlan riding a golf-cart bedecked with balloons and Chinese lanterns, the parade entered the Great Field, where the accomplished VGHS marimba band welcomed them with upbeat melodies. Food stalls, including curry-battered snoek, popcorn and boerewors rolls, kept the hunger at bay while the VGHS choir were the first to perform amid the tumultuous ululating and applause. This was followed by the Sakhuluntu dancers, including a gumboot dancing group and an Indian fusion performance by Prarochna Rama (a Sociology student), Economics honours student, Chipo Hamukoma and the Graeme College steel band. Greald Machona, a member of the Visual and Performing Arts of Africa, performed as DJ in his elaborately constructed Zimbabwean dollarmask. A soccer match between Zimbabwe and South Africa (organised by Mandla Gagayi) rounded off the evening. Later, at Steve Bantu Biko building, a party, organised by Ruth Kruger and the South East African Climate Consortium Student Forum, featured live bands Taxi Violence and The Modern Age.
By Anna-Karien Otto
Photo by Cameron Smith
Source:
Please help us to raise funds so that we can give all our students a chance to access online teaching and learning. Covid-19 has disrupted our students' education. Don't let the digital divide put their future at risk. Visit www.ru.ac.za/rucoronavirusgateway to donate